COVID-19 FAQ for Current Students
Health and Wellbeing
Traffic Light Settings and Close Contact Information
The definition of 'contact' at the Orange setting means household and household-like contacts only. Contacts will only be required to isolate if they are high-risk (household) contacts. 
Cases should notify their close contacts themselves. 
How to know when you should isolate: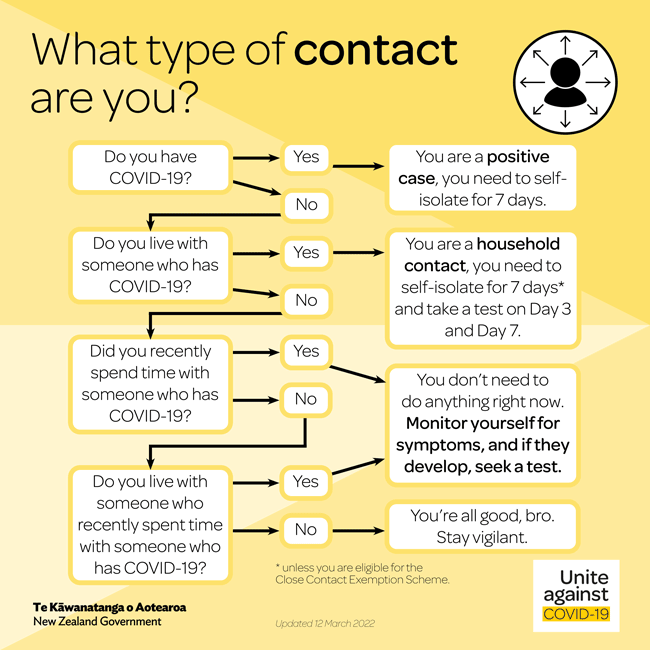 Vaccination Policy and Procedures
Face coverings will remain part of our health protection measures at all levels of the COVID-19 Protection Framework.  
Toi Ohomai undertook a risk assessment towards the end of 2021, which resulted in the decision to adopt a policy of mandatory COVID-19 vaccinations for all staff, students and visitors to our campuses and delivery sites.  
Firmly at the centre of this kaupapa was the aim to ensure the health and wellbeing of our Toi Ohomai ākonga/students, kaimahi/staff, their whānau and our communities.
Given the disproportionate impact of COVID-19 for Māori, Toi Ohomai is acutely aware of the additional risk and therefore impact for kaimahi Māori, akōnga Māori and Māori communities throughout our region, which was a factor in our decision making.
A communication released 4 April 2022 announced that Toi Ohomai decided to cease the vaccine mandates for all Toi Ohomai kaimahi, ākonga and others who access any of our campuses or managed events unless deemed through legislation or updates to our current risk assessment proposal.