Simon Muncaster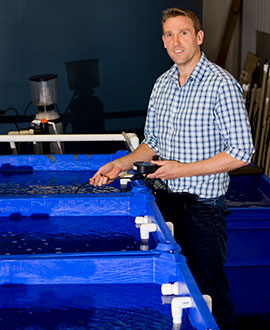 Tutor
Faculty of Health, Education and Environment
Simon's interest in the marine environment goes back to childhood.
After completing a Bachelor of Science degree and taking a few years to explore the world, it was an easy decision for Simon to continue his learning journey with postgraduate research.
He completed a master's degree at the University of Otago Marine Sciences Department and went on to complete a doctorate on the reproductive physiology of fish with the Norwegian Institute of Marine Research and the University of Bergen. 
He teaches a range of subjects including marine biology, including marine botany and aquaculture.
His research focus is on the lifecycle biology of new candidate species for aquaculture as well as the regulation of the reproductive axis in sex-changing fish.
Since achieving his open water certification as a teenager, Simon's been a keen diver and enjoys taking the opportunity to get in the water on field trips and family holidays.