Te Kanapu Anasta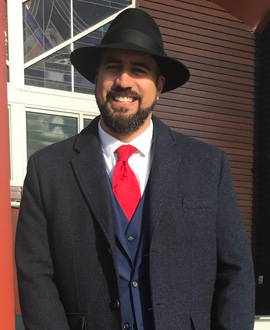 Academic Staff Member, Te Kura Maori
Faculty of Health, Education and Environment
Te Kanapu Anasta has a passion for te reo and its revitalisation. 
"This journey started with just my own te reo journey. I then had a young family and made a commitment to bring my tamariki up in a full immersion te reo Māori household. This drive and commitment of mine eventually grew into a pathway and career of te reo Māori revitalisation."
Te Kanapu teaches te reo Māori at Toi Ohomai Institute of Technology and works alongside iwi to create and deliver cultural revitalisation programmes, while also holding other advisory roles.  
"We are in a period of renaissance for te reo and Māori culture. With the world being a lot more globally connected through technological capabilities, we see what unique and special point of difference Aotearoa has through its Māori culture. 
"It is also is a lot more readily available and free of charge now that the Government recognises its value and people can go and learn in day or night classes."
Most te reo courses are held in the evening, but Te Kanapu will start teaching the institute's first Tauranga daytime te reo course, at Windermere Campus, next year. 
"The idea of being with a single cohort full-time really excites me. I will get a lot more time to grow a greater capacity of language into a single group, whilst increasing the level of immersion as the capacity grows. This is a very effective way to grow strong te reo speakers in a short time."  
Te Kanapu says there are some easy steps people can take to get them on their te reo journey, including accessing numerous online resources that are easily available for people to use at their leisure. 
"My policy is to learn something new every day and have someone to practise with." 
One of the challenges te reo teachers face is the effort required to learn a new language and Te Kanapu says it can be difficult to teach people when they are not fully committed and ready to apply themselves. 
"Your 'why' needs to be clear to you and you need to be willing to make the sacrifice necessary to attain te reo. The classroom is only an introduction to the language. The real growth happens when you apply it in the real world. The key is finding environments, spaces and friends where you can apply what you are learning in the classroom." 
Te Kanapu believes the misconception that Māori should already know te reo can also hinder their ability to take the first steps to learn. 
"The truth is that it is not their fault that they do not know te reo. What they do have now is an opportunity like never before to come, to reclaim their reo and identity."