A lifetime of learning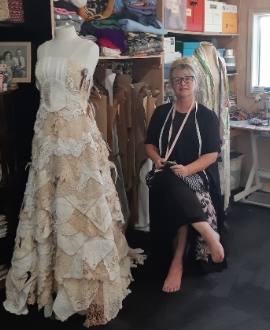 Wednesday, 03 Mar 2021
By Toi Ohomai Expert: Donna Dinsdale, Senior Academic Staff Member, Faculty of Business, Design and Service Industries
She dodges social media, but Donna Dinsdale can't hide away from success and a certain degree of fame. 
The Toi Ohomai Senior Academic Staff Member is a Creative Industries Tutor and fashion design is her specialty. She's been part of this tertiary team for 20 years, teaching across various degrees and diplomas in the fashion design and creative technologies realms. One of the things she does when not at the front of a class is front up to receive awards. 
One could argue this was always going to be the case. Sewing skills are so in her gene pool and she made her first dress when she was eight. It was green with flowers and included a zip! 
"I absolutely love sewing and was taught by the very, very best - my mum. And I never take those skills for granted. Her mother, in the 1930s, was one of the first women to do a tailoring apprenticeship in NZ and my other grandmother was also a dressmaker. It is so in my DNA, it's great. My Dad was also a landscaper, joiner and crafted custom furniture, so for me growing up was about being creative and making stuff!" 
What she makes as an adult is good stuff as the plaudits (and her pupils and co-workers) attest. She's humble but will admit her skills have been "recognised" in New Zealand through her participation in national competitions and exhibitions.
A national competition she has regularly excelled at is the former Westfield Style Pacifica Fashion Awards based around the flavour of Aotearoa. 
"I have been very lucky and successful in that event," she says, explaining that a few collaborations with an ex-colleague had resulted in winning numerous placings as well as netting the Supreme Designer Award one year.  She was also placed at least half a dozen times as an individual designer and took out the top spot in the menswear section one year. 
She's been a finalist at least six times in the Hokonui Fashion Design Awards and, in 2019, won the menswear section and the overall Award of Excellence.
Donna likes the challenge in creating contemporary menswear, to be experimental and break the traditional rules around what this looks like, often seeing this target market undervalued and understated. 
"I like streetwear and the structure and tailoring of menswear. Because it's undervalued and understated there's a nice chance to be a little experimental. For competitions, it's a one-off piece and you can just go for it and I love that ticket to creativity."
As for WOW? Yes, she's been in that twice – once as a collaboration and then also on her own. Her own entry obviously impressed, as the invitation was issued for it to be exhibited in the Wearable Arts Museum in Nelson for a six-month stint. 
The WOW part of her journey has included rejection too. This is an important part of the story and must be mentioned, she states, as it includes a learning around never giving up.
She received a top award during her postgraduate study, is often called upon as a fashion judge, has held her first solo exhibition (called Aroha Atu) and been part of many collaborative exhibitions. And in 2020 she was asked to join a selection of national designers all contributing to a discussion around Critical Making and Contemporary Fashion Practices – it was an online event as part of an Otago Polytechnic and iD Dunedin Fashion Week symposium (her work featured as part of this event too).
While Donna's interest in fashion and sewing dates back to her childhood, study in this field wasn't something she immediately pursued. She tells how she had children very young and waited until they were at school before her studies resumed. She enrolled in a Diploma of Fashion Design and Construction at the Windermere site.
Her sewing skills were of assistance, however, when she had pre-schoolers and operated a small business at home making children's and adult clothing. It enabled her to keep creating while being a stay-at-home mum. 
With her diploma under her belt, Donna headed into the fashion industry, working in various sectors – including industry pattern maker/designer - for about six years.
"Then I thought how great it would be to teach and pass on my skills. Designing and creating and putting things together were my strength."
The next steps involved a Bachelor of Design (fashion) from Otago Polytechnic by distance learning, and then a Masters in Art and Design (also remotely) through AUT. 
"My Masters project was very reliant on heavy research and I tackled this over five years," says Donna, who was working full-time while studying.
That effort resulted in Donna receiving first-class honours and being announced the recipient of the Dean's top award for her faculty.
Her Masters study was centred on a bi-cultural sensibility, incorporating wedding gowns and accessories as cultural artefacts. "Something old, Something new, Something borrowed, Something true "was her adaptation. The bi-cultural theme was based on her own marriage and the celebration of two cultures coming together. What she created were a series of wedding gowns with accessories including a veil, train, poi and corset and, as a special touch, these were exhibited at a local Te Puke church associated with her husband's marae.
"I got gifted different items and lent various taonga. So, there were things from my heritage, like textile artefacts such as doilies and hand-made lace mixed with things of Māori significance like the kete my sister-in-law was gifted by her grandmother and the whanau korowai. I had digital textile prints created from the photos of this taonga and printed on silk," Donna explains.
While the years of her Masters study were "pretty intense" the study didn't stop there. Donna decided to enrol in a certificate in traditional Māori weaving called Raranga, based in Rotorua. 
"It was an amazing, refreshing and an enriching experience. After completing the Certificate, I continued and completed a Diploma in Raranga, with the intention that my practice had the opportunity to become more embedded with indigenous reference from my bi-cultural perspective. I had the support and guidance to make that happen from my husband's extended whānau and understand that I can make this cross-pollination of cultures a reality because of who supports and guides me within this whanau. I am enriched by this gift of knowledge and it is incredibly important to me as a tutor, because I take students on a journey of self-discovery and a lot of that is about who they are and their cultural background.
"After all the study over a number of years I felt a bit tired and needed to reconnect with myself as a creative. I like the challenge of studying and gaining new skills and knowledge but I also just like the making, just for the sake of making and the pleasure it brings– that is my thing. I want to now spend some time and enjoy my practice and use what I have learnt in my teaching."
Donna talks of her love for her job, and of the "amazing and talented" students she has taught, some of whom have won awards and have their own labels.
"I find passing on my skills very rewarding and think my forté is to be hands-on with the students. I get so much pleasure seeing students grow their own journeys, especially those who come in not so confident. 
"I left school at 16 but have constantly studied since then on different levels and at different educational providers, appreciating diverse experiences, and I think that is important as a tutor, to keep learning and share your experiences and knowledge with your students."
Donna says her journey isn't individual and has a long way to go. 
"I acknowledge in everything I do that it's not just about me. I often collaborate, by default my whānau and colleagues feed into my practice, often my creative outputs are influenced by social and cultural change and this is important as it adds so much more in the way of richness and layers to my work."
Read more from our experts on LinkedIn.