Technology in Education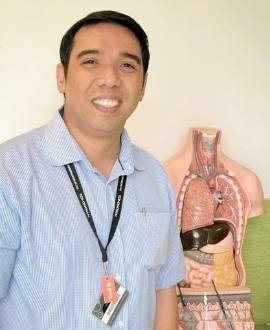 Wednesday, 28 Apr 2021
By Toi Ohomai Expert: Dr Philip Lopez, Senior Academic Staff Member, Faculty of Health, Education and Environment – Department of Nursing
Embracing the future and changing face of teaching and education is a challenge Dr. Philip Lopez is ready for.
The Toi Ohomai nursing tutor says despite the shift to online learning teachers still need to teach with heart. 
"During the early phases of man's road towards civilization, teaching had always been a face-to-face endeavour. I still believe in the traditional way of teaching. Slowly, we need to teach students how to find answers to questions by themselves. However, the teacher would always be a guiding light which is ever-present.
"With the threat of this pandemic, a paradigm shift in teaching and learning is inevitable. Teachers need to move away from the traditional and embrace newer approaches in order to adapt."
Philip says distance and online learning is going to become the norm.
"I think educational institutions all over the world should cope with this herculean challenge to continually reach out to students and teach with a heart. Online learning was, and has never been devised, to dump every learning material in the net and let the students unlock learning all by themselves. That simply won't work. A module may be seen as a simple piece of electronic document but students feel if this module was done using the heart. That learning material you just posted is an embodiment of you as a person. As long as the students feel that his or her teacher continually cares, he or she will continuously feel motivated to learn. That's the main challenge."
Philip has been a tutor at Toi Ohomai for nearly four years and came here from the Philippines where he finished a Bachelor of Science in Medical Laboratory Science and Doctor of Medicine where he specialized in Anatomic and Clinical Pathology. 
"Aside from doing clinical work, I also worked in the academe teaching various papers from Microscopic Anatomy in Medical school, Haematology and Coagulation in Medical Laboratory Science, Anatomy and Physiology in Nursing, Microbiology in Pharmacy, Pathology and Pharmacology in Physiotherapy, and General Medical Conditions in Occupational Therapy."
In 2013, he finished his Masters of Science in Clinical Program Development and was promoted to the dean of the College of Medical Laboratory Science from 2014 to 2016. 
"I first set foot in New Zealand in 2017 when I enrolled here in Toi Ohomai in a Level 8 Post-Graduate Diploma in Applied Professional Studies with endorsements in Mentoring and Leadership. In 2019, I finally finished my Doctor of Philosophy majoring in Educational Management which I left in limbo before coming here."
Philip is no stranger to changing technology, he's recently introduced his first-year nursing students to HoloLens glasses, which are mixed reality smart glasses offering the user the ability to study a virtual human model in 3D.  
"Just like most other mixed reality/smart glasses out there, HoloLens is composed of a head-mounted display with tinted visors. It's cool. It's just like wearing a head torch and sunnies in style.
"Teachers can create modules for students which when accessed by students, provide them with an opportunity to look at and dissect a particular system and highlight different organs. They can make it tilt, rotate, or even go around it and enlarge it if they want. It's just cool seeing a model of a human body in front of you which you can almost touch."
The HoloLens is a significant addition to Philip's teaching toolbox. He says science has often been thought of as a boring and exhausting subject, but that is something he aims to change as it is the foundation of any health care course.
"With Hololens, it will give students a new perspective in appreciating the human body. HoloLens is not intended to replace pre-existing teaching methods we have polished and refined throughout the years but it will provide an interesting addition to our teaching tools."
Philip says his teaching philosophy has always been to cater for his students' three main learning domains – cognitive, where he lays down the dots for them and teach the theory; psychomotor, where he encourages kinaesthetic learners to see theories come to life when they do it themselves; and affective where students connect all the dots to create a bigger body of learning.
"The HoloLens supports basically the last two but most importantly, the affective domain, where they see concepts in a much bigger picture. I believe learning is established once students learn to connect these dots all by themselves.  It's always been, and will always be, that "a-ha!" moment. Hopefully, the HoloLens will help them achieve just that.
"They say a Smartphone is as smart as the person using it.  Even if you have the most updated and the most sophisticated Smartphone model but you are not using it maximally to its full potential, that phone remains to be a "mobile phone". The HoloLens is just like that. Our challenge as lecturers is to create meaningful modules to maximize the HoloLens potential for the benefit of our students."
Read more from our experts on LinkedIn.