Unique resource launched to support international student learning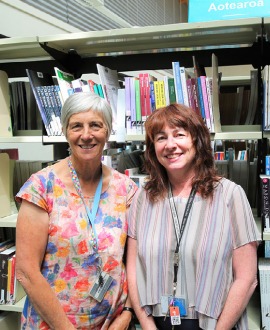 Friday, 19 Feb 2021
By Toi Ohomai Expert: Heather Vail and Sue Werry, Senior Academic Staff Member and Principal Academic Staff Member
The authors of a resource that will help educators provide better learning experiences for international tertiary students expect it to attract interest from across the sector.
The International Student Learning resource is the culmination of research by Heather Vail and Sue Werry as they sought to expand an internal guide Toi Ohomai Institute of Technology tutors have been using since international student enrolments rapidly increased in 2017.
The freshly revised version includes insights from interviews Heather and Sue conducted with various international students, alongside teaching strategies gleaned from other educators and international staff. Heather hopes it will help resolve the "professional panic" caused by the existing dearth of international student resources for tertiary educators. 
"It's sometimes a real challenge for tutors to change their curriculum or teaching strategies to better suit the different needs of each student cohort. But 'teaching to the learner' is now being widely adopted to ensure inclusion and success. It also gives the tutor far more opportunities for innovative engagement," Heather says.
"Our hope is that this creative tool will inspire our peers and eliminate unknowns or fears that can cripple the facilitation of learning." 
Heather and Sue's interest in the topic was ignited by their own experiences while teaching international students.
"I have never forgotten my first international student's amazement when he realised that I did not want him to parrot my words back to me, but that I was interested in his ideas and thinking based on literature and experience," recalls Sue. 
"I realised that the gap between my understanding and the student's understanding was often huge and that it was my responsibility to bridge that gap, and the gaps were not just about content but the whole learning experience and the relationship I have with the students."
Heather and Sue both have an extensive history of teaching at Toi Ohomai, stretching back to the days when it was known as Waiariki Institute of Technology.
Heather worked in the United States as a newspaper journalist and a secondary school teacher before joining the Institute's Rotorua campus as a bicultural journalism lecturer in 2008. She went on to teach communication papers across several different departments and gained a Master of Education with First Class Honours from the University of Waikato in 2018, specialising in global studies in education. 
Heather's now a Senior Academic Staff Member (SASM) teaching information technology papers for the Toi Ohomai Business, Design and Service Industries faculty. She's the national women's committee representative for the Tertiary Education Union - Te Hautū Kahurangi and is also currently working with Te Pūkenga colleagues and the Ministry of Education to develop a peer mentor framework for international students. 
Sue worked as a primary and secondary teacher before joining the Institute in 1994. She's since taught across a wide range of courses, gaining a Master of Business Administration and a Postgraduate Diploma in Education (The Early Years) from Massey University in 2004 and 2016 respectively. 
Sue's spent the past 10 years teaching Bachelor of Teaching Early Childhood Education papers and is now a Principal Academic Staff Member (PASM), developing pedagogy, mentoring other tutors and overseeing student practicums for the Health, Education and Environment faculty. She's also a board member for the Empowering Families for Effective Communities Trust (EFFECT) Rotorua, which provides parent education programmes.
You can download the International Student Learning resource here. 
Read more from our experts on LinkedIn.