Understanding The Value of Horticulture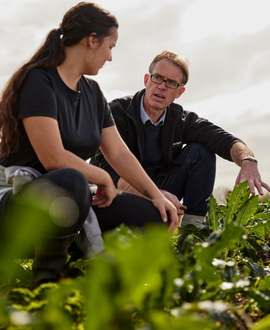 Wednesday, 29 Sep 2021
By Toi Ohomai Expert: Stephen Cantor, Academic Staff Member, Horticulture
Fresh, healthy food should be a right, not a privilege and helping students produce this for themselves, their whānau and wider community is one of the most rewarding roles Stephen Cantor has done.
Stephen is an Academic Staff Member in the horticulture department at Toi Ohomai Institute of Technology. 
He believes that growing food is a core skill everyone has, but doesn't often use, or have the confidence to use. 
"Taking on the role of running the Organic Production programme at Toi Ohomai, has cemented my belief that healthy food is a right."
The skills, confidence, understanding and knowledge that students gain benefits not only themselves but also future generations.
Stephen has been at Toi Ohomai for nearly two years but has a wealth of previous horticulture experience behind him. Everything from working in a small commercial plant nursery to being the head gardener at a private estate. Stephen previously taught Amenity Horticulture at Wintec for four years as part of the Amenity Horticulture team based at Wintec's Hamilton Gardens Campus.
At Toi Ohomai, Stephen teaches the Level 4 Organic Crop Production course onsite at Windermere and is also involved with elements of the Level 3 General Horticulture course in a support role.
"Over the last year, we have developed our own Organic Market Garden here at Windermere. As the setting for our Level 4 Organic Programme, it provides practical experience across our programmes and gives us an exciting point of difference to other education providers."
Stephen says the students' experience, learn and work in a living production system, in which they are free to experiment, practice, adapt and make mistakes. 
"It is real project-based learning, an area I am particularly keen on, due to the way it allows students to explore, learn at their own pace and build real knowledge and in-depth understanding of the subject."
One aspect of food that is often highlighted is the rising cost of groceries, but Stephen says the simplest way to address that is to grow and eat seasonally appropriate, locally produced food. 
"Most of us have access to some space to grow food, whether it be an area of our gardens or a few pots in a courtyard or balcony. Getting started can be as simple as buying a packet of seeds or a punnet of seedlings, but the key is to give it a try. 
"There is a wealth of information out there on what and how to grow on the internet, in books or by talking to people at your local garden centre. Alternatively, make a visit to a local community garden to see what they do and get involved."
Stephen encourages people to take an interest in what they eat and what it takes to produce it. 
"One of the best things you can do is get children involved. Their enthusiasm and wonderment will rub off, and it is something you and they will remember and use for their whole lives." 
The horticulture industry isn't without its challenges, with perception, green credentials and staffing being top of the list, says Stephen.
"The horticulture industry is perceived as a poorly paid, low skilled industry. This is true on many levels and has been highlighted in the news recently by the inability to attract workers to parts of the sector. The shortage of skilled, educated people coming into the horticulture industry needs addressing and this rests with producers, educators and the public. 
"To engage the next generation of horticulturists, there needs a focus on providing long term, stable, well paid, meaningful employment opportunities, allowing for knowledge building and career progression. There is often a disconnect between consumers and the way food is produced. Education and knowledge sharing go a long way towards addressing this." 
The horticultural industry is diverse and reaches into all aspects of life, from the food that people eat to the grass that is sat and played on. 
"It has a huge footprint on the planet, and managing this for the future is perhaps our biggest challenge. Growing food, creating and maintain green space, sporting facilities must be done with care for the world we live in. As a 'green' industry we are not always in tune with the long-term impacts of our actions," Stephen says. 
"Engaged, educated, skilled horticulturists are our future, putting equal importance on people and the planet as we do on profit."
Read more from our experts on LinkedIn.