Leah Jackson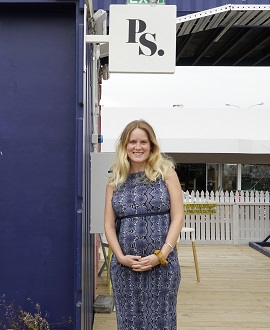 Making Good Design Accessible
Great design is for everyone.
Almost nothing influences the quality of our lives more than the design of the places we live and learn, the roads we travel and the products we use every day. It's often something that's taken for granted, functioning like background music in our lives — it sends us subconscious messages about how to feel and what to expect. 
Leah Jackson, the passionate and bubbly owner of Paddington Store at Our Place Tauranga, has a deep understanding of what design means in our everyday lives. She has always been interested in good design and loves beautiful, authentic products with a social conscience. 
After exploring the wonderful world of hospitality as a café owner in the UK with her husband, Paul, Leah ventured into the world of entrepreneurship. With a growing business, she decided to up-skill by enrolling for the Bachelor of Creative Industries course at Toi Ohomai in 2015. 
"I always knew I wanted to keep running my own business with my husband, and was motivated to improve my skills and industry knowledge. So the goal of studying was to up-skill, with the knowledge that the overall dream was to be a business owner. I think deciding to go 'back to school' was the best decision. Those three years of study really helped build my confidence and design skills to take on the role of business owner," says Leah. 
Leah's passion for beautiful design and business is evident and her enthusiasm almost tangible. With a baby on the way and the obvious pressures of running a business as a new mum looming, Leah is refreshingly friendly, energetic and excited about what the future holds for the business. 
"I'm so passionate about offering our customers a personalised and authentic shopping experience, supporting the amazing local designers in our own backyard, but occasionally we'll spot something from further afield to stock."
This eye for good design is what makes Paddington Store such a mesmerising little shop to wander around in. You might pop in for a quick look around and then find yourself entranced by beautiful handmade trinkets, children's books, gifts and linens. This trove of treasure is something that takes a lot of skill and practice to put together, and that obvious appreciation for design. 
According to Leah, practice makes perfect. 
"I was awarded the Top Graphic Design Student prize during my final year and won an internship with Wave Creative based at the Mount. This was an awesome opportunity to develop my creativity further and build up some industry experience before venturing out on my own."
Business ownership suits Leah perfectly and there's nothing better than walking into their store and feeling right at home. 
"All our products have their own unique story – and we want them to be part of our customers' stories too. Everyone deserves good design – even if it's found in the simplest of things."
Find out more about this subject