Leon Castle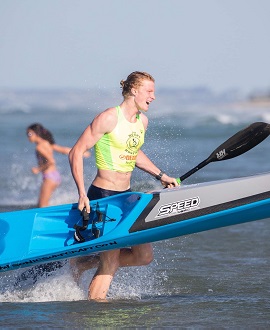 Scholarship Could Help Save More Lives
Surf life saving has played a big part in Leon Castle's life, and now it's helping to determine his future.
Advice from a club mate and the first aid course Leon completed as part of his surf life saving training both inspired him to start a Bachelor of Nursing course at Toi Ohomai earlier this year.
"I thought I was going to do plumbing or something. But one of the surf boys who had just completed the nursing degree really enjoyed it, and that made me realise that men can do nursing as well - and I'm loving it!"
Leon's impressive sports achievements - not only in surf life saving, but also in water polo and rugby - were rewarded with a Toi Ohomai High Performance Sports Academy Scholarship. With the Government's new fees free policy covering his first year course fees, Leon's saving the $5000 scholarship money to help pay for next year's fees.
Leon (18) started competing in all three sports while he was at primary school. He went on to play for the Tauranga Under-18 water polo team, was part of the Aquinas College water polo team that placed second and sixth at consecutive national championships, and played blindside flanker in the College's top rugby team.  
But the Pāpāmoa Surf Life Saving Club is where Leon has focused most of his time and energy over the past 13 years.
"It's a family. I love the people you meet and the friends I've made. I'd be a different person without surf life saving."
One of his favourite events is The Mount Monster he competed in for the first time last year, consisting of a 5km run, 1.5km swim, 12km ski paddle and 6km board paddle.
After a quiet winter, Leon's now starting to train for this year's event, which will be held in December.
"It's really rewarding, because you put yourself through the hurt and then you can say that you've done it."
For now, his days are spent studying, training and working part-time in a supermarket butchery.
At this stage, he's not sure which area of nursing he wants to work in, but says the pace of a busy hospital would suit him.
"Our first placement in the hospital was pretty amazing. The nurses were cool as, and the patients were awesome."
Photo credit; Dscribe Media
Find out more about this subject