Sammy Spence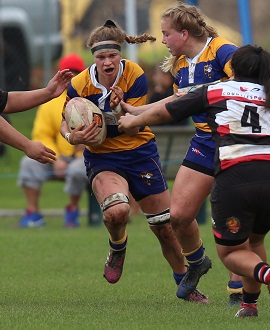 Talented Lock Wins Scholarship
A few years ago, Sammy Spence had to decide which of the two sports she was excelling in – showjumping or rugby – she should focus her time and energy on.
The team camaraderie rugby offered won out over the individual nature of showjumping, and Sammy (18) has been enjoying her first year in the premier women's grade representing Raungataua and training in the Bay of Plenty Volcanix development squad.
Sammy is juggling her training with the Bachelor of Sport and Recreation course she started at Toi Ohomai earlier this year, and says the High Performance Sports Academy Scholarship she was awarded has been a great help. 
She took advantage of the Government's fees free policy to pay for the first year of her course, which means she's been able to bank the $5000 scholarship for her own use.
"When I've needed training boots or training gear, I've had money there and I haven't had to dip into my normal weekly budget. I also don't have to worry as much about work. There's extra security and less stress of having to find that money and I can focus more on my training and performance."
The scholarship convinced Sammy to stay in the Bay of Plenty, close to her supportive parents and younger brother, and meant she could also seize the opportunity to join the Bay of Plenty Rugby Academy. Sammy captained the Bay of Plenty Under-18 team last year, before moving up to the premier women's grade this year, with her new Raungataua team finishing fourth in the Bay of Plenty competition. 
She enjoys playing lock and hopes to one day represent New Zealand as a member of the world-dominating Black Ferns.
"I love the lineouts and the physicality of being a forward."  
When she's not studying or training, Sammy spends almost five hours a week working as a swimming coach for intermediate school children.
"PE (physical education) was the only subject that I enjoyed in high school, which is why I've decided to study it and see where it takes me. I'd love to be out in the community working with the youth to develop healthy and active habits – to reengage them," she says. 
"I love how it [the degree coursework] all comes together - it's great! It's all so interesting."
Photo credit: Moran Images
Find out more about this subject