Shaquille Stone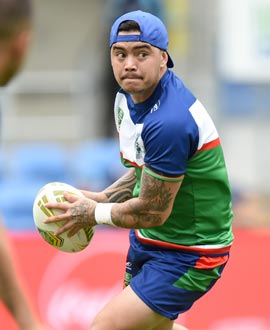 Money Helps Complete Long Road to Degree
A generous scholarship, covering a full year of tertiary fees, has made life easier for national touch rugby player Shaquille Stone as he completes the final year of his sport and recreation degree.
The 27-year-old has racked up some impressive results, winning silver at three World Cup tournaments for the New Zealand Touch Blacks Men's team and also playing for the NZ Warriors NRL Men's Touch Team, usually in the link position.
Shaquille's also been busy completing his Bachelor of Sport and Recreation at Toi Ohomai Institute of Technology – a qualification he first started working towards when he completed a sports diploma at the institute's Rotorua campus in 2014. 
"I went straight back into work at a gym and then a high school for several years, before choosing to finish my degree. I have always been passionate about the sporting industry so it was a no-brainer to upskill, cross-credit my diploma and complete the degree."  
Shaquille's one of four Toi Ohomai students who received High Performance Sports Academy scholarships this year. In addition to the hefty financial support the scholarship offers, Shaquille's been enjoying a complementary campus recreation centre membership and the nifty HPSA tracksuit he wears during his course placement at his former school, Rotorua Boys' High School. 
He's now starting to prepare for the national trials for the NZ Touch Blacks Men's team in October.
"The skill set, fast pace and the technical aspects of the game are what I enjoy the most, as well as playing alongside some of my best mates and family," Shaquille says. 
He also enjoys rugby and spent this season alternating between winger and fullback for the Whakarewarewa Rugby Club.
Shaquille's a dad to two primary-aged children and started an online vintage clothing business five months ago. He's always loved sport though, and is enjoying the diversity his degree offers.
"It covers all areas of sport such as management, coaching, nutrition and physiology. I'm planning to complete a postgraduate diploma in secondary teaching next, to hopefully become a physical education teacher. My kids are my drive and the reason why I'm doing what I'm doing."
 
Find out more about this subject