Culinary arts student tag-team with MasterChef star for a Ronald McDonald Family Retreat Fundraiser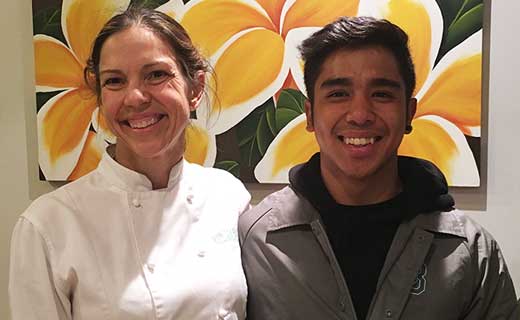 Wednesday, 15 Mar 2017
Supporters of Ronald McDonald Family Retreat in Rotorua, were treated to a special dinner cooked by the tag-team duo, MasterChef contestant Vanessa Baxter, and culinary arts student Adrian Soriano.
This cooking opportunity is a dream job for many culinary arts students.
For Toi Ohomai student Adrian Soriano that opportunity was seized at the eleventh hour.
"I was in bed. We had just got home from our marae stay and my tutor, Jonathon Chemis called me and was like "The chef from Auckland who was supposed to come down and work with Vanessa is not coming, so we need someone to help out. Are you free?"
"I had done a Ronald McDonald dinner before and just really enjoyed it, so I was like 'Okay, I'll help out.'"
Jumping into action alongside the season four star contestant of the top-rating reality TV show, Adrian helped bring the flavours of the night to life.
"We created a 'Taste of Asia' menu. We made Vietnamese spring rolls that were really fresh, nice and healthy. We also made salmon and fish covered in banana leaf served with black and brown rice, pan-fried vegetables and deconstructed Banoffee Pie.
"All the guests really enjoyed and appreciated the service. Vanessa was also appreciative that I helped out.
"She just kept on thanking me and made me the star of the night, saying how I just took on the challenge last minute. She was really thankful."