Grammy-award winning artists test out new Toi Ohomai music studios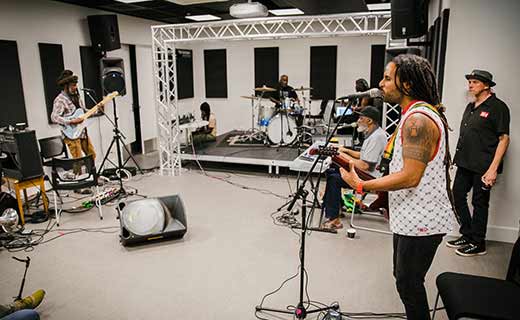 Wednesday, 15 Feb 2017
The reggae beats weren't just rocking it at One Love over Waitangi Weekend. Grammy award-winning reggae band Steel Pulse took advantage of the brand new music studios at Toi Ohomai Institute of Technology to get in a bit of rehearsal time.
Steel Pulse – who travelled over from the UK – christened the brand new performance studio in the Toi Ohomai innovative teaching and learning space, due to open to the public this later week. Other artists, including Spawnbreeze and Josh Wawa White, both from the USA, also spent some time rehearsing in the new space before the festival.
Local musician, promoter and Toi Ohomai music graduate, Tim Cooper, organised the rehearsals and said the new space was perfect for international artists. "They were all stoked with it," says Tim. "The sound-treated room and air-conditioning was ideal for music sessions. There's very few spaces of that size in the region."
Dave Bishop, Programme Coordinator Music at Toi Ohomai is looking forward to having more international and national artists on campus.
"We've also had Brad Kora and Toi Ohomai graduate Joel Shadbolt of L.A.B. recording in the studios and all the feedback has been really positive, so I'm looking forward to the students getting started."
The new building is due to be officially opened on Thursday, 16 February and will feature multi-purpose, technologically enhanced learning spaces that offer greater informality and flexibility for learning; the new learning space will also host the creative arts students.