New CE welcomed to Toi Ohomai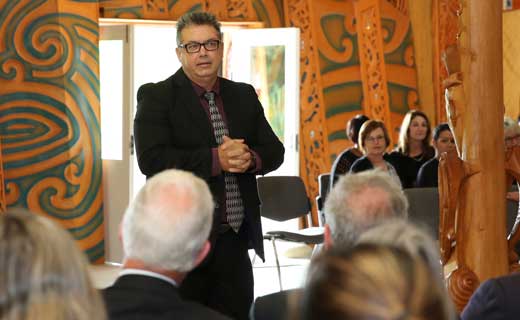 Monday, 12 Dec 2016
New Toi Ohomai Institute of Technology Chief Executive, Dr Leon Fourie, was welcomed to the institution through two pōwhiri earlier today.
Dr Fourie was formerly deputy Chief Executive of Unitec Institute of Technology in Auckland. Combined more than 400 Toi Ohomai staff and council members were on hand to welcome Dr Fourie onto Tangatarua Marae in Rotorua, and at Pomare in Tauranga. Dr Fourie was accompanied by his family and more than 20 staff from Unitec for the occasion.
Council chairperson, Cathy Cooney, said Dr Fourie's appointment marked the next stage of development for Toi Ohomai.
"Dr Fourie brings a wealth of knowledge and experience to the position and coupled with his energy and enthusiasm we look forward to considerable progress in 2017 for the institution and for tertiary education in the region," said Mrs Cooney.
It was a case of straight into it for the new CE as he made his way from the two pōwhiri to the institute's inaugural graduation ceremony in Tauranga. More than 2,000 students are expected to cross the stage at Tauranga's Holy Trinity Church over five ceremonies held 12 – 14 December, commencing with a parade from the CBD on Monday afternoon.
Toi Ohomai was formed in May 2016 with the merger of Bay of Plenty Polytechnic and Waiariki Institute of Technology. Toi Ohomai is the largest provider of tertiary education in the Bay of Plenty region and the third largest institute of technology in New Zealand.