New Toi Ohomai Campus to Reinvigorate Community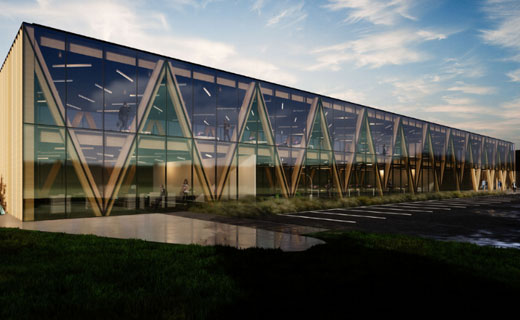 Tuesday, 11 Aug 2020
A purpose-built tertiary facility in the centre of Tokoroa aims to provide growth and investment within the South Waikato, training and retaining both youth and skilled workers.
The new Toi Ohomai Institute of Technology campus will be open by 2022 catering for up to 500 students a year, upskilling the local workforce. 
The $14 million centre is being funded by a $10.84 million contribution from Government with the balance being co-funded with $1 million grants from Toi Ohomai, Trust Waikato and the South Waikato Investment Fund Trust (SWIFT).
 
The project will create one purpose-built campus catering for the key local sectors including farming, engineering, construction, manufacturing and logistics. 
Toi Ohomai Chief Executive Dr. Leon Fourie said SWIFT and Toi Ohomai had worked closely together since the initiative began in early 2018 to decide what a purpose-built facility would look like.
"This Government funding will enable us to realise a vision we have been working towards for the last two and a half years. Our three current training sites in Tokoroa are in different locations, some are rundown and it wasn't working bussing trainees from Tokoroa to our campuses in Rotorua, Hamilton or Taupō.
"Toi Ohomai will run the training centre but we see this operating as a partnership with SWIFT, South Waikato District Council, Raukawa, the Pacific Island community and strong alignment with the business community.  Partnership with local iwi and Pasifika is critical given the Māori population of the South Waikato is 25% - 35% in Tokoroa - and 12% Pasifika."
Toi Ohomai Board of Directors Chairperson Catherine Cooney said it was exciting to be able to see this project come to life. 
"There has been a lot of hard work behind the scenes to see this project succeed and we have been working closely with SWIFT and Trust Waikato to see this come to fruition.
"We know the importance of working collaboratively for our common goal of getting more people from our local community into trades training and employment. Employers are calling out for more skilled workers and this a gap that we can help bridge." 
The new building will bring the existing three Toi Ohomai centres together in a prominent location, which will also be home to a new commercial development. 
"Not only will this give us the space we require but it will bring life to the community." 
Ms Cooney described the facility as a community tertiary hub and said it had been designed with the community as its core focus. Concept plans developed for the centre include a digital entrepreneurial hub, café, as well as childcare facilities to enable parents to easily access education. 
The centre will give students a modern learning environment with skilled tutors and top facilities, whilst reducing the digital divide in the Waikato region.
"We want to keep these training facilities in Tokoroa and we hope that this facility will not only keep youth here to train and enter the workforce but also provide upskilling opportunities to enhance the community.  
"The visibility of the Campus and the commercial developments will show that there is growth and investment within the community and breathe life into Tokoroa."
 
Related content:
Education news articles