Phil Tataurangi tells students to never dream medium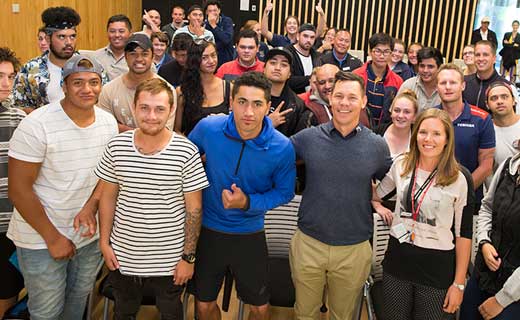 Monday, 20 Mar 2017
"No one can say you are or are not going to be successful. You need to just dream big. Never give yourself the opportunity to dream medium."
That advice was part of a motivational speech delivered by kiwi golfing legend Phil Tataurangi at our Mokoia Campus in Rotorua last Friday.
Speaking to an auditorium of sporting students and those from nearby high schools, the former Australian PGA champion dispelled myths he perceived around success and highlighted the value of self-worth.
Success doesn't mean happiness or big cheques. I guarantee you, true happiness comes from the pursuit of trying to reach your own potential. I couldn't have stood here 20 years ago and told you that."
With few Māori in professional golf prior to his arrival on the scene, Tataurangi never pictured himself as a disadvantaged anomaly. With loving and supportive parents, he saw his whānau, Māori heritage and sense of belonging as an extra pair of clubs in his golf bag, centring his journey.
Rising from a 7 year old stepping onto a golf course for the first time, to playing on the PGA Tour at 22 alongside his idols, the forty-five year old sports professional states his lifelong dream of mastering golf is still an ever-shifting goalpost and that success is more in reach now than ever.
"I think there is this myth that the most talented people have the most success.
"Whatever you choose to pursue, with how well the globe is connected these days, you are actually this close. No one will believe in you like you have the power to and that self-belief is the cornerstone of success. At times it is a rocky road, but everybody who manages to move the needle returns to that self-belief and work ethic.
"Doing the reasonable sometimes means you are not stretching yourself far enough. Be innovative. In sports, education or life. What are people reaching for the same goal not doing? What might you do differently? How can you continually move forward?
"These ingredients help you overtake the most naturally talented at any age."
Encouraging the audience to strive for their most authentic way of living, he emphasised that in the modern age, divorcing who you are on or off the sports field or in any two areas of life is impossible.
"Remain true to who you are at all times and don't try to emulate someone else. That is what elevates you. Be one set of values, be one you. In learning, in family, in life. It's a whole lot easier life to live and you'll have a whole heap more fun wherever you end up."