Solo Mum and Social Work Graduate, Mel Pol's Journey to Success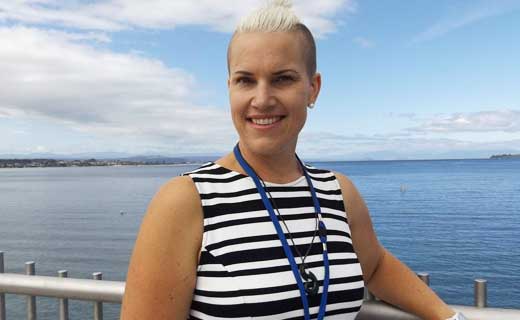 Tuesday, 10 Jan 2017
"I think I've always been that friend or family member that has looked after others and wanted to see the best for other people," says employed Bachelor of Applied Social Science (Social Work) graduate, Melissa (Mel) Pol.
"However as a solo mother of two kids, one with special needs, I realised back then I needed to do something more with my life. To achieve my degree and then get my current role - an opportunity of a lifetime - is just wow."
Wow is right. Through one of her former classmates, Mel was given a 'heads up' to a new vacancy at Tuwharetoa Health. Impressed by what they saw, the organisation offered her a brand new service provision working with pregnant women and children up to the age of 5 – a level of responsibility rarely given to new graduates.
"It is amazing and I'm pretty sure unheard of, because they like to get new social workers to work under somebody else. I have just been so lucky. I work with a great group of women, and it is just a really rewarding job in that respect.
"I now have this tohu (qualification) behind me, so I can pull in the relevant theories and models to be able to work with people constructively.
"That's the best part, to see what I learned in action. Being able to sit down with somebody and see where they are at in their life and be able to dissect it for the best result. Three years of paper work and essays turns into a reality that you can surprisingly instantly recall."
A former beautician, Mel credits her career change to feeling a natural attraction away from dealing with the aesthetic 'outside' of people and towards dealing with "the real issues".
With the Bachelor's content confirming she had selected the right path, Mel's passion quickly became evident in her marks. The mostly 'A' range student puts her academic success down to her desire to learn, and the interesting and interactive way her tutors presented the course content.
"I just ate it up. I loved using Claire Schnell, who was the learning advisor at the time. She was just so pivotal in my marks. And the ladies up at the library, I don't know what I would have done without them. It was so much information and discovery about myself as well. It was really interesting."
Commuting from Taupo the entire three years of her qualification, Mel made use of the Toi Ohomai free Rotorua – Taupo student bus service, and after school care subsidies in order to achieve her goal of being the first on her side of the family to graduate with a degree.
"That moment was awesome. My family were proud to see me graduate, I even had my great aunt from Hamilton come down for it and she was like 85."
"Go and talk to the Toi Ohomai lecturers about what is involved in the degree beforehand. Ask qualified social workers about what they do for a job – learning advisors – have those talks. I'm definitely happy to be that person. I've been at the bottom, I know what that is like.
"I think sometimes people are put off by these apparent boundaries to accessing study, but it is so achievable - I am living proof."