Student Chefs Serve Up a World of Wonders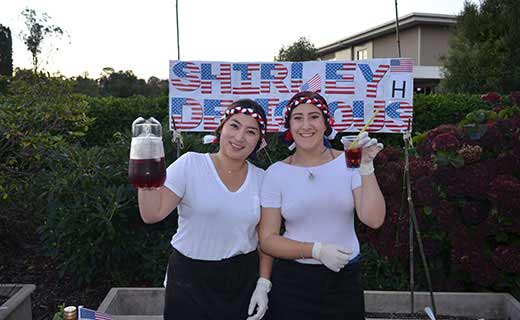 Wednesday, 15 Mar 2017
Toi Ohomai Windermere Campus came alive last night with truly international flavours, as second year student chefs served up an exotic mix of dishes at their first international food night market.
A crowd of about 150 people gathered outside Toi Ohomai Atrium restaurant, sampling food from ten different countries including chilli chicken tacos from Mexico, an Afghani inspired dish of lamb with spinach curry and rice, French crepes served with honey ice cream, lemon curd, mixed berry compote and hazelnut praline and Italian arancini with mushroom risotto and mozzarella with a marinara sauce.
Student chef Sylvia, whose USA inspired booth served up Shirley Temples, said the she enjoyed learning about other cultures through their food.
"It gave us a chance to try working with different ingredients and be adventurous."
Tutor Gordon Oakley said the event was a chance for students to not only practice cooking international cuisine, but to gain experience with the logistics of food service to a crowd of hungry foodies.
"We like to offer these experiences to students so they are as well-rounded as possible when they complete their training."
The next event from these chefs in training will be an artisan food market in four weeks' time.
Check out more photos on Facebook.