Toi Ohomai CE Delivers BOP Roadshow to Discuss Vocational Education Reforms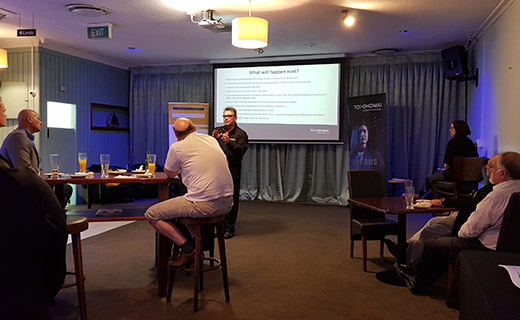 Friday, 11 Oct 2019
Toi Ohomai Institute of Technology Chief Executive Dr Leon Fourie recently hosted several events across Bay of Plenty to shed some light on the changes and implications of the upcoming Reform of Vocation Education (RoVE) on the region.
At the Tauranga event, which was hosted at Windermere Campus, Dr Fourie delivered a strong message about the importance of ensuring a connected future of high quality local education and thriving local partnerships.
"Our regionally connected delivery model aligns precisely with the outcomes that are intended by RoVE, which is to ensure we continue to provide our region with the skilled workforce it needs to thrive. 
"Therefore, throughout the next three years of RoVE transitioning we will continue to deliver the widest possible mix of courses and work in partnership alongside our communities at more than 60 delivery sites across our region to ensure our region's best interests are kept a priority," says Dr Fourie. 
Events were also held in Whakatāne and Rotorua throughout September. The final event will take place at the Taupō Yacht Club on Thursday, 24 October.
Each event was held in collaboration with local Chambers of Commerce and gave members of the business sector and community the opportunity to ask questions and address any concerns about the future of vocational education and training in the Bay of Plenty and South Waikato under the proposed new model.
Dr Fourie says he wanted to do the roadshow because it provided an opportunity to unpack the impact of the RoVE not only for Toi Ohomai, but also for businesses, employers, communities and learners.
He says while details are still emerging, the reform is necessary to ensure that vocational education and training is world-class, future-proof, remains relevant.  
"The system must ultimately be geared to providing students with the best possible learning experience that is portable, seamless and constant irrespective of whether the learner is in-work, on-campus or online."
In response to questions raised about the integration of Institutes of Technology and Polytechnics (ITP) and Industry Training Organisations (ITO) delivery models, Dr Fourie suggested that the new system has to reflect the best of both delivery models, indicating that transitioning towards this outcome will be done through measured systems, process and people integration plans.  
"The ITP and ITO delivery models should be on a continuum from a fully in-work (employee), industry-engaged model (e.g. apprenticeships) through to models where industry is reliant on the provider to produce work-ready graduates (e.g. Nursing). Learners will move seamlessly between the two ends of the spectrum depending on industry and/or learner requirements.  
"The changes provide a unique opportunity for existing current models of educational delivery to be reviewed and innovatively redesigned to ensure education/training packages are fit-for-purpose, deliver a skilled workforce and are cost effective into the future."  
Dr Fourie added that there is no doubt that we will want to ensure much of the existing ITO expertise is maintained in the new system. Equally, the ITP sector focus on quality pedagogy, learner support and evidence-based practices must be applied across all delivery models.  
"It will be important that any future education provider is able to adapt these practices to meet the needs of industry as well as learners.  
"This may not be as challenging as anticipated as ITPs currently have a clear understanding of ITO delivery models and an estimated 3000+ apprentices/cadets are completing training through an ITP. That said, the changes announced create a unique opportunity to bring industry and employers together with education providers to rethink existing education and training models."
In relation to questions about the number of new bodies created by RoVE, Dr Fourie responded that the RoVE architecture has the potential to create a central-regional operating network with clear role differentiation that ensures opportunities for a real impact by key economic sectors, employers and community; and will enable greater efficiencies, while removing competition between providers.
Related content:
Chief Executive RoVE statements
,
RoVE / Te Pūkenga news articles