Toi Ohomai Grad Hires Classmates For New Business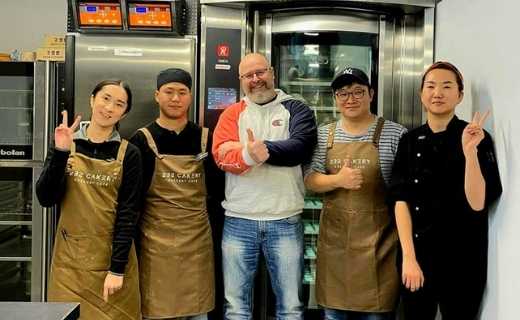 Thursday, 29 Jul 2021
Chris Cha always had a passion for baking and creating delicious and intricate works of art, he dreamed of one day opening his very own patisserie. Only a few years after graduating with a baking diploma, this dream has been realised – and what's best, he has taken his fellow classmates along for the ride. 
After relocating to Tauranga, Chris heard about the master skills of Toi Ohomai Institute of Technology tutor, Noel Remacle, and sought out to enrol in one of his baking courses. 
With Noel's expert guidance, Chris successfully completed the New Zealand Diploma in Baking at Toi Ohomai in 2018. Fast forward a few short years, Chris is now the proud owner of Tauranga Crossing's hottest new patisserie, 232 Cakery, and has employed his fellow Toi Ohomai bakery alumni to work alongside him. 
Chris' business specialises in patisserie, incorporating traditional techniques with his Korean heritage. 
"We make all sorts of sweet desserts starting from a range of macarons to the finest designed fresh cream cakes. I want to introduce people to a different approach to classic patisserie, infused with a Korean- inspired, modern taste."
Supporting his peers was also something Chris was passionate about, leading him to employ some of his Toi Ohomai classmates when the opportunity arose. 
 
"I had an amazing learning experience and social life at Toi Ohomai. I enjoyed meeting new people with different nationalities and backgrounds. I was particularly inspired to hear and learn about all the different cultures of my classmates and their own ways of creating different flavours was incredibly interesting." 
Chris employed both Amber Tan and Kevin Yang from his Toi Ohomai class, who he says that the right skills and experience he needed to help build and grow his business. 
"Chris and Amber are an asset to my business and I knew after studying with them that I'd love to work with them one day - so I offered them positions as soon as I was able. Amber is one of our pastry chefs and she was on the Level 5 Bakery course, while Kevin is a pastry chef from the Level 5 Culinary Arts course." 
Chris has big aspirations, hoping to open up more branches within the next five years and is grateful for the support from his friends and his tutors. 
"Opening up a new business is rewarding but I'll be honest, I faced some difficulties along the way. Help from our team and the support from tutors at Toi Ohomai got me through it."
Chris has some advice for the next generation of students at Toi Ohomai. 
"Be honest to your teammates and use this time wisely and effectively. There is a big opportunity to learn and develop real skills at Toi Ohomai."
Related content:
Hospitality news articles