Toi Ohomai Partners with Tauhara North No.2 Trust to Support Retraining of Tourism Staff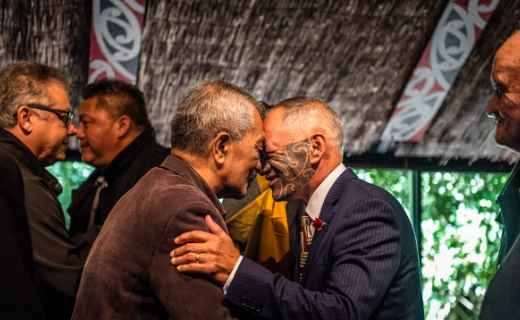 Monday, 22 Jun 2020
Toi Ohomai has partnered with Tauhara North No. 2 Trust to provide Tamaki Māori Village staff impacted by COVID-19 with access to re-employment and retraining opportunities.
The partnership was celebrated with an official pōhiri held on Monday June 22 at 9am, at Tamaki Māori Village.
At a time when many businesses, especially those in the tourism sector, have been severely impacted by the effects of COVID-19, Tauhara North No. 2 Trust chairman, Ngahihi Bidois, says they made the decision to retain all 110 employees. This is in alignment with trust values and was also supported with the Government wage subsidy.
The Trust's partnership with Toi Ohomai presents all Tamaki employees with upskilling opportunities. With training in place, the business will also focus on relaunching its award-winning evening programme which is expected to begin on Friday, 3 July.
"Our focus is on our people. Realistically we cannot retain everyone across the recovery period, but we can and should be ensuring our people have employment opportunities and retraining options to ensure they can provide for their families.
"We want our people qualified so they are on the front foot of employment opportunities within the primary industry sector, which is calling out for a qualified workforce. Agriculture and apiculture courses will also be offered to staff can move to work within other Tauhara sectors – such as our farming, geothermal or forestry interests," says Mr Bidois.
Toi Ohomai Faculty Dean – Primary Industries, Trades and Infrastructure Brian Dillon says retraining is essential to ensure people are able to adapt to a post-COVID world, and the evolving economic climate.
"At Toi Ohomai, one of our key strategic goals is to support the educational needs of our regions. We actively seek partnership opportunities that help us reach those goals and we know the struggle that many of our local business are facing with this recovery period post COVID lockdown," says Brian.
"This partnership with Tauhara North No. 2 Trust enables us to play a key role in equipping their staff for the changing work landscape by teaching them transferable skills that they can utilise across different jobs and industries.
"We're proud to contribute to the retraining and re-employment and look forward to ongoing collaborative partnership opportunities with Tauhara North No. 2 Trust, and other business across our rohe."
Mr Bidois says the success of this partnership will not end with Tamaki.
"Tamaki is just the beginning and we hope other tourism partners, local Māori, iwi and wider community will look at getting on this kaupapa with us."
Related content:
Agriculture news articles
,
Forestry and wood production news articles
,
Horticulture news articles
,
Tourism news articles