Toi Ohomai Tourism Student Conducts Research Into New Zealand's Chinese Tourism Market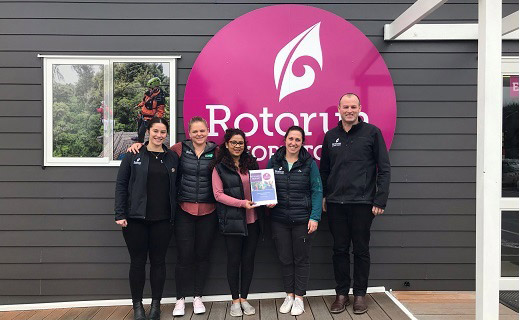 Friday, 27 Sep 2019
Toi Ohomai offered a $5000 scholarship to one of its tourism students to undertake research at undergrad level in conjunction with one of our local industry partners. 
We collaborated with Rotorua Canopy Tours to undertake a combined research project for a final year student, and Nicolette Miranda was chosen to participate. 
The project focused on gaining insights into the growing Chinese tourist market in New Zealand and identifying how these tourists can be encouraged to visit Rotorua, as well as helping Rotorua-based tourism operations companies identify which products need to be developed to attract these tourists and how to reach them.
The research revealed that 66 per cent of Chinese free-independent-tourists (FITs) booked their activities before heading to New Zealand.
In addition, it showed that the majority of these tourists (33 per cent) looked to travel agencies for recommendations on what to book. A further 19 per cent looked to official websites before booking travel activities.
Going out into the field
Nicolette was bought on board for 10 weeks to put together a survey, during which she worked closely with the team at Rotorua Canopy Tours, which gave her the opportunity to learn from them as mentors. 
She worked closely with the team at Rotorua Canopy Tours to set up the surveys to ensure that they would reach the right audience and gain the most valuable insights. 
"It [was] essential to develop a strong understanding of Chinese tourists, given China is one of New Zealand's strongest tourism markets," says Paul Button, Rotorua Canopy Tours General Manager.  
Surprising Outcomes
"Many operators would assume that Chinese FITs would book their travel activities similarly to other FITs – that is to say, once in the location and impacted by local influences."
Upon taking the survey to market, which included visiting i-SITEs across the region and canvassing independent visitors at various Rotorua tourism sites, Nicolette gathered data that proved otherwise. 
The research demonstrates a need for tourism operators to focus on having an engaging official website, and strong relationships with resellers and travel agencies as the key influences on Chinese FIT travel decision making.
The research also revealed that the least impactful influences on the travellers' decision-making were social platforms.
"The low impact of social influence on the Chinese FIT was a surprise to us, given the massive use of Weibo and WeChat in China," says Paul. 
"WeChat is China's app for everything, and Weibo has huge influence as a media platform. This just goes to show how important it is to develop an understanding of all segments of important markets."
The research project proved the ideal opportunity for Nicolette to gain hands-on experience and build connections with one of Rotorua's tourism industry leaders. 
She will be graduating in 2019.