Craig and Kathleen Skelton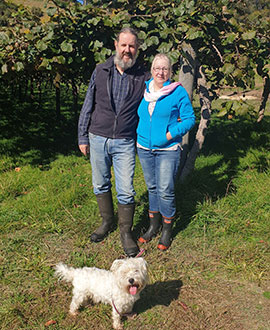 Creating a Heavenly Space using Organics
Imagine a place where bees drift between native trees, tui call from the branches above and a beautiful, bubbling stream meanders past riparian plantings. Sound like heaven?
Well, that's exactly what Craig and Kathleen Skelton's property in Tauranga feels like. After working hard for most of their lives, the couple is creating their dream retirement pad at a property on a lifestyle block at Oropi, 20 minutes from downtown Tauranga.
But, they're not the types to put their feet up and watch the days go by. Instead they're creating an ecological haven on their lifestyle block at Oropi including ensuring the kiwifruit orchard is up to organic certification standards, planting native stands to draw back the wildlife and ensuring the Waiorohi stream that runs through their property is in good health by developing riparian zones.
To help with this work, the couple enrolled in the New Zealand Certificate in Organic Primary Production (Crop Production Strand) (Level 4) at Toi Ohomai. Craig says their vision for the orchard is part of the overall property, where they practice regenerative agroecology including care for the land and water. 
"Part of our life plan was to return to NZ and reconnect back to my roots – whānau (family) and whenua (land). Kathleen found, and we bought the property or whenua (land) as it was organic and aligned with our principles and values. The orchard was part of the property and was being leased to a local organic kiwi producer.
"Over time we realised economically we needed to bring the orchard back under our care, so we have completed organic studies to give us the skills and knowledge to make this happen.
"We only make decisions that support Papatūānuku (earth mother), for example to sustainably help us bring our orchard back to productive health by increasing biodiversity to improve food production."
Before taking on the organics course, the couple also studied permaculture. Craig says both courses were helpful given their overall goal for the property.
"Permaculture provided us with an great overview of working with Papatūānuku (earth mother). I found Yeoman's keyline approach integral in allowing holistic thinking in designing and planning what we wanted our property to be, through the riparian zones, retiring land, establishing wetland and our orchard.
He says the benefits from the organics course were particularly helpful when working on the orchard.
"The organics course is commercially focused and gave both Kathleen and I the knowledge, experience and practice to take over the management of the orchard ourselves.
"It has deepened our understanding of what it means to be successful in organics, sets the framework for success in caring for the soil and the orchard ecosystem (biodiversity) to improve fruit nutritional value and increase production and gave us the knowledge and skills needed to do it.
"Additionally it also helped us build networks of people we can connect with, share knowledge and problem solving, as well as providing an acceptance with organic peers in the industry and establishing credibility with contractors, pack houses, regulators and marketers.
"It also enabled us to be innovative in maximising the health and production of our orchard by working with nature in the context of climate change."
Tutor Ruth Mclean says the organics course is great for people who already have some knowledge of growing. 
"It's a chance to focus on how to be the best organic grower you can be. Students need to be able to commit about two days each week to complete the course. It has a practical focus through approximately one day a week being dedicated to hands-on experience on an organic orchard or farm.
"There's also about four hours each week of reading research and assessments all relevant to the student's own type of production and site. This is done on online. There are also 25 classes throughout the year, held on Saturdays, usually once a fortnight. These are opportunities for class discussions, and are great opportunities for field trips to see organic principles in practice.   
"Field trips this year included visits to an award-winning kiwifruit orchard, an avocado grower and a market gardener. Between them they had over 50 years of experience as certified producers. Our hosts are all very generous about sharing what they've learnt over many seasons. Students often comment on how much they enjoy chatting with the other growers on their journey into organics and there's a lot to be learned from others in the class."
 
Find out more about this subject