Katrina Shores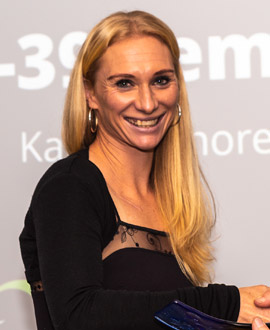 Unforeseen Challenges Spark Huge Career Change
When Katrina Shores completes her Bachelor of Sport and Recreation this year, it will mark the culmination of a 25-year journey that's featured disappointment, parenting, health issues and new goals.
Her life experiences and top-level sports results prompted Toi Ohomai Institute of Technology to award her the rare honour of two High Performance Sports Academy scholarships, covering most of the fees for the final two years of her degree. 
Alongside her full-time studies, Katrina's also training for her second crack at qualifying for the Ironman World Championships, which she'll attempt in Taupō in March. Katrina earned the right to compete at this year's world championships, qualifying during her first ever Ironman last March, but COVID-19 restrictions then forced the cancellation of the 2021 version of the iconic Hawaiian event.
The 40-year-old has racked up an impressive list of achievements in athletics, hockey, duathlons and triathlons over the years. But an injury she suffered when she was 15 changed everything. A trip on the finish line in a 100m final at the North Island secondary schools' championships resulted in a broken collarbone that was left undiagnosed for a year, leading to blood flow issues in Katrina's shoulder and arm that went on for years. She'd just been named in the NZ hockey development squad when the accident happened, and the abrupt end to the sports she'd been enjoying sparked an unexpected spiral into anxiety and depression.
It's a mental health issue Katrina still deals with, but her decision to return to competitive sport seven years ago helps her keep it in check. However, her goals were once again thrown into disarray when she was diagnosed with a large blood clot in her neck two years later. The problem, which linked back to her original injury, threatened to end Katrina's favourite sports again as she faced the possibility of taking blood thinning medication for the rest of her life. But instead, six months after corrective surgery, Katrina recorded one of her most memorable moments when she placed 16th in her age group at the ITU World Triathlon Grand Final in Mexico.
She then made a life-changing decision to end her 20-year accounting career and enrol in a sports degree at Toi Ohomai. Katrina has spent most of the past ten years solo parenting her two sons, now aged 12 and 15, and knew she was taking a leap of faith when she gave up her senior-level job, so she's grateful for the significant support she's received from her two scholarships.  
"Learning at this time of my life was a bit nerve-wracking - I didn't like learning at school, but I'm loving learning now. One of the things I'm really enjoying is physiology and I seem to have fallen into follow the coaching path. I'm really enjoying combining my passion with knowledge."
The High Performance Sports Academy package includes a complementary membership at the aquatic and fitness centre at the Toi Ohomai Tauranga campus, which Katrina is fully utilising.
She's currently training in all three triathlon disciplines – swim, cycle and run – about 12 hours a week, often accompanied by her equally sporty partner David. The couple are actively involved in the Triathlon Tauranga club.
"I didn't think I would ever be able to do an Ironman, but I enjoy the distance, the intensity and being able to go for that length of time," says Katrina. 
"I've always been competitive and my training is basically my medicine, it helps me deal with my anxiety and depression. It's probably the only time my brain relaxes and kind of switches off."
It's also helped Katrina deal with the grief of losing her younger brother, Russell, during the first year of her degree studies.
"He was an Ironman in a different way - the best husband, father, son, brother and friend anyone could ask for; he would help anyone. He was not just my brother but my best friend, who supported and believed in everything I did."
Katrina's setting her sights on working in community health and triathlete coaching. She's looking forward to using her experiences and skills to support others to pursue a more active lifestyle, to challenge an increasing reliance on medications and help improve some of New Zealand's disease statistics.
 
Find out more about this subject