Lisa Norris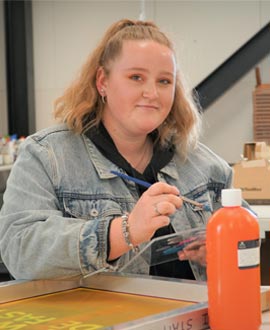 Supporting Home Town Creativity
Artist Lisa Norris is looking forward to giving back to the teachers who encouraged her to pursue her creative goals. 
She's contributing an acrylic painting to the Te Puke High School Beneath the Surface exhibition, which will be held over three days at a pop-up store in the town centre next month.
Lisa says her former teachers encouraged her to sign up for the Toi Ohomai Institute of Technology Bachelor of Creative Industries course, which she started earlier this year. 
She went on to win one of the institute's 34 Secondary School Achiever Award scholarships, giving her a handy $2500 boost towards her full-time studies. 
The 18-year-old has always enjoyed being creative and plans to major in visual art. She's set her sights on being a children's book illustrator and a set and prop designer when she graduates. 
"All through primary and intermediate I performed in shows and took art as a subject. This passion for performance art carried on throughout high school, where I was part of the backstage crew for our school production. I enjoyed it so much that I auditioned for the next two years to be in further shows, where I was an ensemble singer and dancer. 
"I took subjects such as drama, dance, music, graphic design, photography and visual art. Then, in my last year of high school, I was accepted as one of the 2020 arts leaders to represent my school," she says. 
Lisa enjoys painting with acrylics and watercolours and doing pencil drawings.
"Originally, I wanted to become a vet nurse, but I went on a work experience day with my high school and saw a couple of surgeries. I nearly passed out and decided that career path wasn't for me. 
"My passion has always been in the creative careers, so it was exciting to discover how many pathways there are in the arts industry."
 
Find out more about this subject