Martin Gatens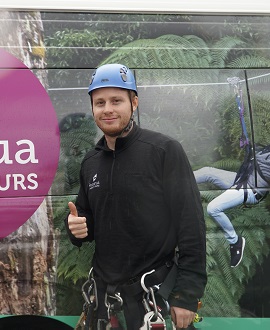 Adrenalin Junkie Finds Dream Career
Martin Gatens started his dream job at Rotorua Canopy Tours after a stint in the retail industry.   
A self-confessed adrenalin junkie, Martin was sick of being cooped up inside, so he signed up to study our adventure tourism course. He was quickly able to learn the skills he needed to support his taste for adventure and a job in the great outdoors. 
"I just got sick of working inside all the time," says Martin. "I wanted to be outdoors. I'd always been into mountain biking, kayaking, climbing, so the course was perfect for me." 
He highlights how he benefitted from learning not only about the thrill-seeking aspects of adventure tourism, but also about the technical skills he needed. 
"At Rotorua Canopy Tours, basically they want the best of the best. A lot of the training I got on the course helped fast-track my training on the job and enabled me to jump right in. 
"With a job in adventure tourism, technical skills are important, but so are people skills. Employers in the industry are looking for people that can talk to customers and treat them like they're the most important thing in the world. That's where I really felt like the course gave me an edge, as we learned everything from conservation, to customer service and risk management."
Martin recommends the course for anyone who loves the outdoors and who loves working with people. 
"This is living the dream. If you want to spend your days outside and have a new adventure every day, I would definitely recommend doing the course to get your foot in the door."
While the tourism industry majorly impacted by the effects of COVID-19, Martin says people have been more keen than ever to enjoy Rotorua's tourism offering.
"We've never been busier. We're starting to see weekends being fully booked again, so I'm happy to get straight back into it."
 
Find out more about this subject