Tessa Mead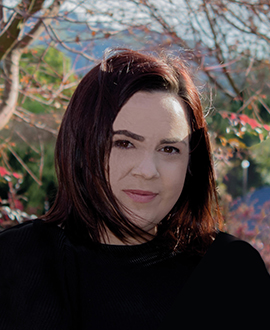 Education Journey to Help People Continues
A desire to support others is driving Tessa Mead forward.
Last year, Tessa graduated from the New Zealand Diploma in Whānau Ora (Level 5) at Toi Ohomai and was even proclaimed the top student of the course.
But the course was just another step in Tessa's journey, and she signed up for the Bachelor of Social Work this year. 
The whānau ora course counts as the first year of the social work degree but Tessa says the real benefit was it gave her the confidence and skills to take on the next level of study.
"Before I enrolled for the whānau ora course, I did the foundation course because I had been out of school for a while and I wanted to get used to studying again.
"I wasn't sure if I wanted to do the degree, but the whānau ora course was a safe place to start instead of committing to the four years right at the beginning. It was a good introduction. It's like a starting point so we know what to expect at a degree level."
Tessa says completing the diploma made her more determined to get the best skills she could to achieve her dream of supporting people.
"Walking away with that diploma is amazing and there would have been plenty of doors open to me but I didn't want to stop there. After the first semester I knew that social work was where I wanted to be. I want to be somewhere where I can help other people. I have a passion for vulnerable people and for helping them."
She says she is enjoying the degree so far and being pushed out of her comfort zone.
"The work gets harder but you become more educated and able to take on the challenges.
 "You go in there thinking you want to change the world, but that's not what it's about. It's about vulnerable people and giving them the tools they need. It's not about you changing them, it's you giving them the tools for them to enhance their circumstances as you work alongside them."
She says she enjoyed the introduction to psychology.
"That was a really good paper in terms of mental health and giving you the empathy you need to understand people.
"I want to be somewhere where I can make difference to those who need it the most. I had the my own experience and the experience of life and seeing people struggle and I wanted to be where I could make a difference."
Tessa says while it changes every time she learns something new, she thinks she wants to work in mental health and addiction when she graduates with her degree.
"There is a mental health crisis in New Zealand and that's where I want to go, somewhere where there is a need for an employee with the sorts of skills I have learned at Toi Ohomai."
She says her advice for anyone thinking about doing the diploma or the degree is to take a long look at themselves.
"There was a lot of self-reflection and I think that's really necessary. You need to identify your bias, because everyone has them, and the areas where you can grow. It's a good place to understand how people can get to their circumstances. But you learn a lot about people and their development.
"You need empathy – that's the biggest thing. And resilience, self-care and being responsible."
 
Find out more about this subject