Tim Edwin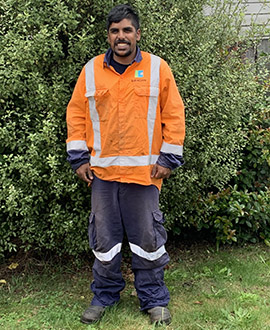 Tim Edwin's love of plants was cultivated by his grandfather.
Born in Singapore, when Tim was young his grandfather would visit and share his horticultural knowledge with him capturing his imagination with all of the possibilities that he could grow.
All these years later, Tim is rapt that he has been able to turn the passion he shared with his grandfather in to a career.
Tim enrolled in the New Zealand Certificate in Horticulture (General) (Level 3) at Toi Ohomai last year. He graduated last year, with the added bonus of the New Zealand Certificate in Agriculture (Vehicles, Machinery and Infrastructure) (Level 3), and now he works as a gardener for Infracore at the Government Gardens in Rotorua after completing the year. 
He says the qualifications gave him the perfect skill set for his job.
"It gave me a great foundation in horticulture and made me think outside the box with all the fantastic teaching and hands-on experiences. I really enjoyed the hands on and practical sessions."
Before enrolling with Toi Ohomai, Tim had been studying towards an IT diploma in IT at Unitec in Auckland. However, he says he heard great things about the horticulture courses at Toi Ohomai and wanted to pursue his passion.
"I loved the hands on and practical sessions. The tutors were amazing , their knowledge ,expertise and teaching styles were on point and they were always there if you need help with assignments , tasks and tests.
"Everything in the course has helped me in my new employment."
Find out more about this subject