Students Embrace Innovation with Truck Simulators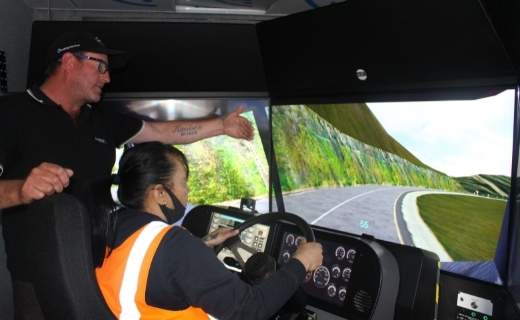 Friday, 29 Oct 2021
Transport and Logistics students put their skills to the test with state-of-the-art heavy vehicle simulators.
Tokoroa-based Toi Ohomai Institute of Technology students got first-hand experience with heavy vehicle and forklift simulators thanks to Autosense, a driver safety provider based in Taupō.  
Autosense provides safety solutions for heavy and light vehicle commercial fleets through online driver training modules, in-cab simulator training and prevention of fatigue and distraction using Guardian by Seeing Machines technology.
The heavy vehicle simulator uses large, surround screens and has a range of customisable settings including manual, automatic, trailer size, and driving conditions and locations. Users can also experience the major challenges of operating large trucks when intoxicated.   
The forklift simulator is operated using a set of controls and virtual reality goggles. The visual representation of a worksite is realistic and allows the user to see everything in 3D. It will also show how much damage has been done (if any) at the end of each module, which is a cost-effective way of learning from little mistakes.
Mark Fletcher from AutoSense travels throughout New Zealand providing heavy transport simulator training and evaluations for workplaces.
"It's a safe, low-risk way of introducing people to large machines before they attempt the real thing. The students can have a go at challenging tasks like backing B trains and using Roadranger gearboxes for the first time. 
"It's a great way to build confidence in a relaxed environment where we can talk it through while they do it. They can also manage distractions, such as cars pulling out from nowhere, and extreme weather conditions."           
Through the simulators, AutoSense is able to evaluate the skill level of people completing the modules and then provide a report detailing what training is required to get them to the desired standard which will minimise risk. The service is popular with companies looking to upskill staff.
Logistics tutor Simon Dromgool says the simulator was very realistic and was a great training aid.
"The simulator was excellent. The students loved it."
The students also got to experience how technology is saving lives, with Guardian by Seeing Machines. Guardian is world-leading technology that prevents driver fatigue and distraction related events in real-time. It uses face- and gaze-tracking algorithms to measure the driver's head position and eye closure and, when safety parameters are exceeded, audio alarms and seat vibration are immediately activated. 
On average, 60 events are reported a day and most incidents occur in the first 2km of leaving the yard. 
"The biggest risk on our roads is caused by fatigue, speed, and distraction, and providing training and technology to help drivers is our key focus," Fletcher says.
Related content:
Logistics news articles