Charity House Project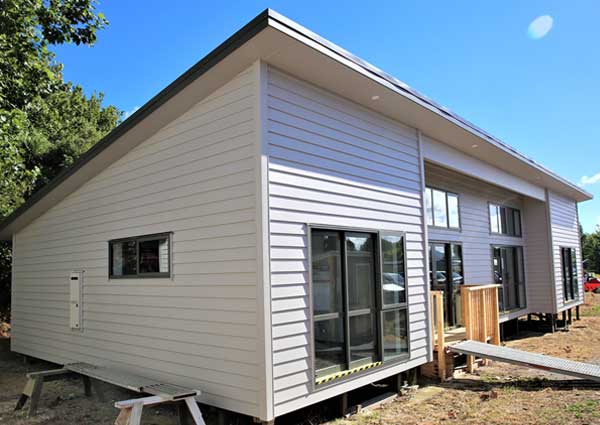 The Charity House project began in 2013 and is a ten year training and partnership programme. It's become part of our ethos – providing students with hands-on learning opportunities while benefiting the wider community.
One house per year is built by the carpentry students at Toi Ohomai with the support of the business community, and then auctioned off with the proceeds going to Rotorua community groups.
Toi Ohomai partnered with the Rotorua Chamber of Commerce, Rotary Rotorua Sunrise Charitable Trust and the Rotorua Lakes Council to launch the project and worked together in collaboration to gain support from local building suppliers, tradesmen and professionals.
This approach continues today, with valued contributions from various sectors of the Rotorua business community supporting the excellent work of our carpentry tutors and students. 
This project gives our students the opportunity to work on the construction of the house, as well as seeing the roles the other contractors play in the project. 
The 2021 Charity House sold for a record price, resulting in $140,000 being distributed to various Rotorua community organisations. 
Read about this, and more Charity House new stories.
Work-ready Students
Carpentry students benefit from the hands-on learning experience, providing an excellent understanding of residential dwellings through working on the project from start to finish. It provides them with a great foot in the door to the construction industry.
The construction of the houses is being undertaken by students studying the New Zealand Certificate in Construction Trade Skills (Level 3), Carpentry Strand.
Transportable Dwellings
Each three-bedroom house features a master bedroom with ensuite, open-plan kitchen, dining and lounge. The houses are transportable making them ideal for first home buyers, baches, investment properties, homes on farms, a second home for extended family, retirement homes and many other options. 
Thanks to the Generous Support...
The Charity House Project would not be possible without the support of our partners. On behalf of Toi Ohomai, thank you for your valuable contribution, current and pledged. We look forward to sharing the goodwill and satisfaction generated through education and community involvement.
Recipients
Proceeds from the 2021 Charity House were awarded to:
Age Concern Rotorua - $6,072 
Aratika Cancer Trust - $1,595
Atua Awhi Community Trust - $15,000
Big Brothers Big Sisters of Rotorua - $5,000
Dress for Success Rotorua - $6,400
Graeme Dingle Foundation Rotorua – Kiwi Can & Stars Teina - $6,000
Mokoia Community Assn - $1,500
Older Persons Community Centre Trust (Parksyde) - $4,033.25
Rotary Club of Passport Rotorua – Waiariki Women's Refuge - $2,455
Rotary Clubs of Rotorua for RYPEN - $10,350
Rotorua Citizens Advice Bureau - $1,499
Rotorua Community Hospice Trust - $5,188
Rotorua Community Youth Centre Trust - $1,200
Rotorua District Riding for the Disabled Assn - $1,911.30 
Rotorua Hospital Chaplaincy Trust - $5,000
Rotorua Mountain Bike Club Inc - $7,719.95 
Rotorua Trails Trust - $2,500
Sewing for Success - $1,760
St Chads Communication Centre Trust - $5,653.40
Te Amorangi Trust Museum Inc. (Rotorua Settlers & Steam Museum) - $17,068.75
Tipu Waiariki Trust - $3,705
Waikato/BOP Cancer Society Rotorua Branch - $12,359
Water Polo Rotorua Inc - $2,000