Our Faculties
There are three faculties at Toi Ohomai, each offering a wide range of subjects that are relevant to their industry, and taught by supportive, passionate tutors.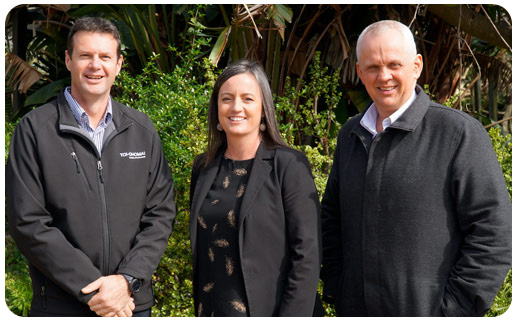 Pictured from left: Brian Dillon (Faculty Dean of Primary, Trades and Infrastructure), Jeni Fountain (Faculty Dean of Health, Education and Environment), and Bart Vosse (Faculty Dean of Business, Design and Service Industries).
Faculty of Business, Design and Service Industries
Faculty Dean: Bart Vosse
Bart has worked in the hospitality industry for more than 30 years, with nearly half of that time spent in education.
Originally from Holland, Bart immigrated with his family at the age of nine, staying 8 years before returning to Europe to build his career at exclusive hospitality businesses in several countries.
When he returned to New Zealand Bart worked in executive and proprietary positions for several food and beverage operations and managed large-scale catering and events across the North Island.
Bart holds a Masters in Management, Post Graduate Diploma in Management and several hospitality qualifications.
Now settled on a lifestyle block in Kaharoa, Bart loves spending time with his wife, his two children, his pets and livestock.
Faculty Operations Manager: Kara Wood
Kara joined Bay of Plenty Polytechnic in 2014 after relocating to the Bay of Plenty from Wellington.  
Prior to joining the Institute Kara worked in tertiary education, and held senior positions in not-for-profit educational organisations in the US and New Zealand, managing several prestigious international exchange programmes.
Kara took on the role of Faculty Operations Manager in 2018. She manages a team of Faculty Administrators across the institution, and is the "go to" person for operational matters within the faculty. Most of all she enjoys the opportunity to engage with staff and students across the region.
When not at work, Kara enjoys spending time with her husband and young son, taking part in various outdoor activities, and travelling.
---
Faculty of Health, Education and Environment
Faculty Dean: Jeni Fountain
Jeni has worked in tertiary education since 2010, joining Bay of Plenty Polytechnic as a part-time tutor on the NZDipBus programme as well as teaching some of the courses offered in the legal studies group.
 
Jeni holds a Bachelor of Laws and a Bachelor of Education, both from the University of Waikato. Her LLB was earned as an adult student and, as an overachiever, whilst earning her degree she had success in Law Student Mooting, Negotiation and Witness Examination competitions, won a Simpson Grierson Summer Clerkship, became the Waikato University Law Student Association President, and the following year, the New Zealand Law Student Association President! 
 
In 2011 Jeni completed her Masters in Laws and began the development and online delivery of the Level 7 Graduate Certificate in New Zealand Immigration Advice in consultation with the Immigration Advisers Authority, Immigration New Zealand, the University of Waikato and the University of Victoria, Melbourne. 
 
Jeni was appointed to the role of Group Leader Legal Studies in 2017, and later Group Manager Legal Studies.
 
Jeni holds a practising certificate as a lawyer, and is completing her Masters in Educational Leadership through the University of Waikato.
When not hard at work or studying, Jeni is mum to daughter Tate; a 20-year-old self-confessed nerd, currently on exchange at Trinity College in Dublin, Ireland, and son Sidney; an 8-year-old 'sportsman extraordinaire' who attends primary school in Tauranga.
Faculty Operations Manager: Francis Crosbie
Francis has been working at the Institute for 23 years in allied support roles, most recently in the role of Faculty Operations Management.  With a passion for learning, Francis believes the highlight of working in the tertiary sector is seeing how education opens opportunities for people in our communities.
Francis enjoys study herself and completed the Post Graduate Certificate in Management in 2017 at Toi Ohomai. 
Outside of work, Francis loves spending time with her family, tending to the vegetable garden or relaxing with a good book!
 
---
Faculty of Primary Industries, Trades and Infrastructure
Faculty Dean: Brian Dillon
Brian started his career with a carpentry trade qualification through the New Zealand Army, which provided him a wide range of experiences. He spent time travelling and working overseas before beginning a stint of self-employment, and stepped into the world of tertiary teaching in 2000 - a move that he never imagined would turn into three or four careers.
Brian is passionate about quality education and continual learning, and says he's had the privilege of being a part of that firstly as a tutor, then supporting that delivery in various management positions. 
Brian has appreciated the opportunities for personal development, having completed his MBA (Distinction) through the University of Waikato. He is also very involved with various tertiary education groups with a view to contributing to continuous improvement. 
Faculty Operations Manager: Doug Van Kolck
Doug began his career in the education sector in 2005 as a computing tutor for a Private Training Establishment, moving into academic management before joining Bay of Plenty Polytechnic in December 2006.  He worked as an administrator in the School of Applied Technology until being appointed as the Faculty Operations Manager for the Faculty of Trades and Logistics in December 2017.
Doug believes his strength lies in networking with other business units to create efficient and robust processes.  He is also involved with the Sustainability Advisory Group those focus includes reducing recyclable waste to landfill and waterways and our carbon footprint.