The Importance of Embracing Matariki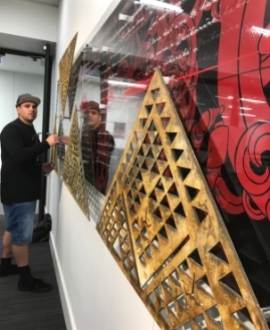 Thursday, 08 Jul 2021
By Toi Ohomai Expert: Quinton Bidois, Academic Staff Member, Creative Industries
Reflecting on the past and spending time with whānau are key aspects of Matariki. 
Matariki signals the Māori New Year and the introduction of a public holiday to celebrate the event is a huge step in Aotearoa becoming a true bicultural country.
Toi Ohomai Institute of Technology tutor and Tā moko artist Quinton Bidois, says Matariki is a time of renewal and believes the push for acknowledgement will mean that for future generations, Matariki will be just as important as Christmas, if not even more important. 
The introduction of a public holiday is a huge step forward for our country, he says. 
"Not only is it the perfect time of year, where people can take time to stop and connect with family, but it normalises Matariki and the commitment to being a bicultural country and that is hugely important in the partnerships of the Treaty."
Quinton says during Matariki he looks back and contemplates what his ancestors have left behind and the sacrifices they made. 
"It's more than just a holiday, it's an ideology or way of thinking, a holistic event where you can reflect on your mental, physical and spiritual wellbeing. 
"For me, I gather myself together and reflect on what happened in the past year. I have a close connection to the ocean so I try to get out onto the water, whether it's going for a surf, or a fish or swim. 
"It symbolises cleansing myself and starting fresh.
"Matariki has always been about being around people and sharing. Sharing each other's company, thoughts and connecting back to times of old so that we will always be thankful for who we are and what we have."
Quinton says knowledge is power and the influx in Matariki resources online are a great starting point for those wanting a better understanding of the practice. 
"It's everywhere I go, so many organisations and businesses are trying to embrace Matariki and there's a wealth of resources online that people can access to educate themselves. 
"Within that new concept is new learnings and new understanding about being bicultural. The best way to learn is to acknowledge and with that comes understanding and lack of ignorance. If we don't acknowledge it, it gets dismissed. 
"Acknowledging Matariki is a huge start towards being bicultural, but there is still a lot of work that needs to be done."
Taking small steps to celebrate Matariki is an achievable goal for everyone, Quinton says. 
"It all depends on each individual and their whānau and how they choose to reconnect. It could be through kai, or walking up their mountain or taking a swim in their river. It's about reflection and celebration and looking to the future through the past. 
"People shouldn't be scared just because they don't understand it, once we get into the groove of acknowledging and celebrating Matariki it will become normal, and that is what we need to achieve in order for us to be a truly bicultural country."  
Read more from our experts on LinkedIn.