Students From First Intake of Sterilising Course Graduate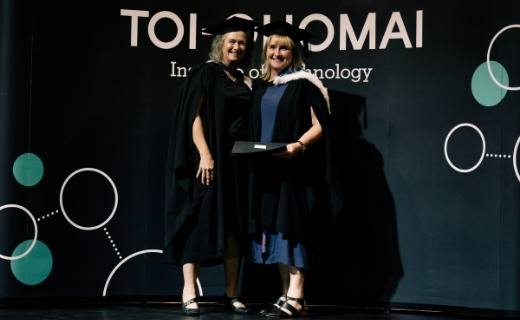 Monday, 19 Apr 2021
Ensuring a high level of service delivery and patient care outcomes is the key focus of a career as a sterilisation technician. 
Due to a push for the industry to be better regulated, Toi Ohomai established level 4 and 5 Sterilising Technology courses, the first cohorts of which officially graduated in Rotorua last week.  
Sterilising Technology is a vital part of the healthcare sector and addresses a very specific skill set that's in high demand. 
The level 4 certificate focuses on sterilising technology for various roles in the industry, while the level 5 diploma allows sterilising technicians to step into a leadership role.
The New Zealand Sterile Sciences Association president, Shelagh Thomas, is among the first cohort of diploma students who graduated last week. 
Shelagh had already completed a level 5 Advanced Certificate in Sterilising Technology but says she wanted to bridge to the diploma. 
"Additionally, as president of the NZSSA, I had pushed for the development of a Diploma to sit alongside the career framework for sterilising technicians and to confirm our identity as a profession."
Shelagh says there is a common misconception that staff who work in this area are just dishwashers or cleaners and are uneducated, but that is far from the truth. 
"Sterilising technicians were designated as health professionals around 2016. They have a scope of practice, qualifications and career frameworks. Technicians are an integral part of the perioperative team. No one part can fully function without the other."
Working in the industry Shelagh says she is thankful the course was developed. 
"There is a sense of pride when you have achieved the Diploma. I believe Toi Ohomai is a great place to study be it on-site or distance learning. As they offer good support to the student."
Fellow graduate Kim Edmonds was offered the opportunity to study the level 5 diploma through a training and development programme at her workplace. 
"Being a wee bit older I wasn't sure I was up for the task having been out of school for some time. When I completed the certificate, it gave me the confidence and interest to further my knowledge to see if I could take this to the next step and complete the diploma – I did."
Kim says returning to study after 40 years was a challenge but one she enjoyed. 
"There is a lot of research and science that goes behind the sterilisation processes and rationale to why and how it is done. However, it's a credible and rewarding career choice, not just a job."
Kim says she felt privileged to be part of the first intake for this course and is extremely proud of herself for gaining the diploma. 
"I never thought I would ever be capable. I am also proud to be a role model to my family, showing them, it doesn't matter how old or where you are in life, you can achieve what you think is impossible."
Related content:
Health news articles