Breaking Barriers and Achieving Dreams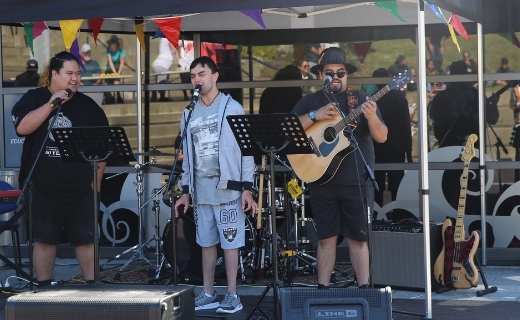 Tuesday, 31 May 2022
Jayke Hopa doesn't let anything get in the way of his dreams. 
The 21-year-old is providing inspiration for those with disabilities or impairments, encouraging them to follow their dreams. Jayke suffers from optic nerve hypoplasia, septo-optic dysplasia, meaning he is blind, but that hasn't stopped him from graduating from Toi Ohomai Institute of Technology with a Diploma in Music. 
Jayke, who is a distant relative of Dame Kiri Te Kanawa, hopes to one day be a mainstream musician and says his musical interests and talents came from his family. 
"On both sides of my family there are musicians, there's always been music around and being visually impaired I found that I just connected with music." 
Jayke took piano lessons but is mainly a self-taught musician. He can sing, play the guitar and keyboard and learns music by ear. 
Last year he was featured on the Māori Television show 5 Minutes of Fame, an entertainment series giving aspiring artists a platform to take their shot at fame. He describes the experience as nerve-wracking but exciting at the same time.
"I obviously couldn't see the camera, but I knew it was there. It gave me another element of worry but I was trying not to show it. It gave me a good insight into those talent shows and how they work. It was a good experience and an opportunity to put myself out there." 
Jayke was born blind and tries to support others who are experiencing similar impairments. 
"As much as it is hard, you can't change it and you just have to make the most of what you've got. 
"I still struggle sometimes and I often tell people that it is ok, to not be ok, but also don't be afraid to ask for help." 
Jayke is a shining example that your impairment doesn't define you. 
"You can still follow your dreams and pursue your interests." 
Jayke now runs his own business, Blind Assassin Music, and works as a record producer. 
"In the visually impaired community, it can be quite difficult to get a job as people worry you might not be up to it. I love music. I want to collaborate and produce music and I want to be a mainstream artist and do live shows."
Jayke previously went to a school for the blind in Auckland and was concerned about his transition to Toi Ohomai, worrying about being the only blind person in his class. 
"My classmates treated me like I was normal. That's all I wanted. Ben Wilcock is an exceptional tutor and I felt so supported." 
His advice for people wanting to study music: do it. 
"Go for it. If it is your ambition you will really benefit a lot from it. You don't want to wake up one day and wonder why you never did it."