Drumming to His Own Beat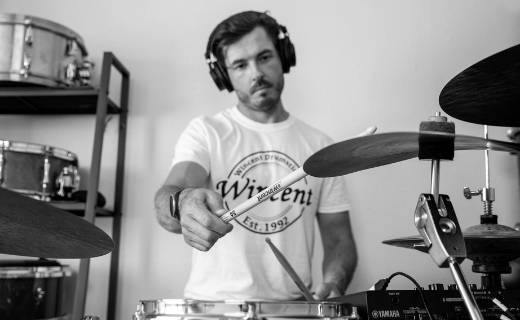 Tuesday, 24 May 2022
After being a working musician for more than 20 years, Stan Bicknell wanted to complete a qualification, knocking off a personal challenge that began in his teens. 
The Papamoa-based drummer has played with some of New Zealand's most well-known artists including Kimbra and Shapeshifter, but last year he took up the challenge of completing the New Zealand Diploma in Music at Toi Ohomai. 
"I started a bachelor degree in my late teens but for personal reasons, had to stop mid-first year. I'm not one to not finish what I started and so this was very much a monkey on my back from then on. 
"Toi Ohomai was the perfect way for me to dive back into studies, upskill in a couple of areas I was lacking, and network with other like-minded people."
Stan has loved music for as long as he can remember which is, in part, due to his parents always playing music in the house.   
"Then when I was 12 my dad gave me his old guitar, which I loved, but once I found the drums at 14, I was hooked."
Stan was a self-taught musician and in the 2000s he became a member of popular New Zealand band 48 May, a pop rock band that released several albums and performed successful tours in New Zealand and Japan.
His huge range of experiences in the music industry with different genres and artists has seen Stan adapt to various styles of drumming, but he says there are still challenges in breaking though into the industry.     
"I love every musical experience I'm fortunate enough to be a part of, whether on a small or large scale. 
"I'd say the main challenges are just being seen, being heard, and having people think of you when they need someone to fulfil a role. Being a good person, working on your craft, and networking, is everything."
Stan's life took him overseas but upon moving back to New Zealand he wanted to upskill by getting his music diploma. 
"Toi Ohomai was recommended to me by a friend, and I found the tutors incredibly supportive." 
With his diploma under his belt and his wealth of experience, Stan still performs live, he records drums for artists in either his home studio or someone else's, he teaches both in-person and remotely, he hosts a podcast, and he sells drum-related products.  
"Pocket and Chops is the podcast I host and produce, with my good friend, and drummer, Stevie Cat Jnr.  This is a passion project which is essentially a place to share my thoughts, and use my skills I have gained in production."
He acknowledges how important awareness is of New Zealand music and the difficulty of the industry in such a small country in a remote part of the world. 
"I think it's great New Zealand has a whole month dedicated to the celebration of its music industry, especially for the new generation coming through. They get a chance to see and hear the high standard of music coming out of their very own country."
Despite being in the industry for such a long time, Stan's passion has never faded. 
"It never leaves, if anything it's stronger than ever. I just find the older I get; my goals tend to change.
 
"I find Inspiration is a by-product of a healthy mind, a healthy body, and constantly challenging yourself with listening to new music."
Stan's advice for aspiring musicians wanting to study music is to apply themselves
"You're there to learn, to gain more knowledge of your craft, so make the most of it. The tutors and resources are fantastic."
If you want to hear more from Stan and his experiences you can listen to his podcast Pocket and Chops.