How Paddling a Waka Led to an Award Winning Essay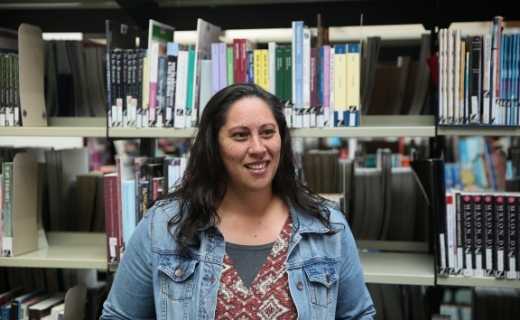 Friday, 13 Aug 2021
The cleansing experience of paddling in a waka on a Rotorua lake sparked a train of thought that led to Sarah Marr winning an international essay writing competition. 
Sarah (Ngāti Rangitihi) has been recently named as the 2021 winner of the International Group Work Essay competition. She is also a fourth-year Bachelor of Social Work student at Toi Ohomai Institute of Technology. 
The annual competition is open to students across the world. To enter, students had to submit an original, unpublished paper integrating theoretical material with clinical issues.
Sarah's class was given the opportunity to participate in waka tētē on Lake Ōkareka through Te Waiariki Purea Trust as part of their studies.
Waka tētē were small canoes used for travelling and fishing. 
"We experienced first-hand the therapeutic benefits of waka tētē, connecting with nature and working together to paddle on lake Ōkareka."
"I found the whole experience quite spiritual." 
Sarah says this formed the basis of her essay, which was about the waka tētē as a therapeutic intervention tool. She had to link this to a group of vulnerable people, and she chose women who had experienced domestic violence.
"There is something quite cleansing and empowering about it."   
After being prompted by her tutor, Sarah entered her essay into the competition and says she was shocked when she found out she had won. 
Sarah's win earned her prize money, as well as the right to have her essay published in the prestigious Groupwork Journal. 
"The social work tutors at Toi Ohomai also had a prizegiving and presented me with a lovely taonga."
Sarah admits that social work is a challenging profession but one which she sees as hugely rewarding. 
"I want to engage in meaningful action to support others to achieve their aspirations, and I am passionate about advocating for those who do not have a voice. I strongly believe in fairness and equal outcomes for those within society who are disadvantaged over others. Also, as a wāhine Māori, I want to contribute towards the advancement and success of tangata whenua and promote Māori tino rangatiratanga."    
She wants to set an example for children, which she says is what inspires her. 
"I'm doing this for a better life and opportunities for my kids. The mahi is hard, I've never studied at this level before, but I've already seen the impact and influence it has on my kids. Going to university is a normal conversation in my household. My kids have a greater appreciation of the importance of an education. 
"Last year, I had my first work placement, and I saw a lot of people in distress, but I also saw a lot of resilience and strengths in those same people. I enjoy helping people identify their strengths and giving them the tools to achieve their goals."
Related content:
Education news articles
,
Social work news articles