Mask Necessity Leads to Innovation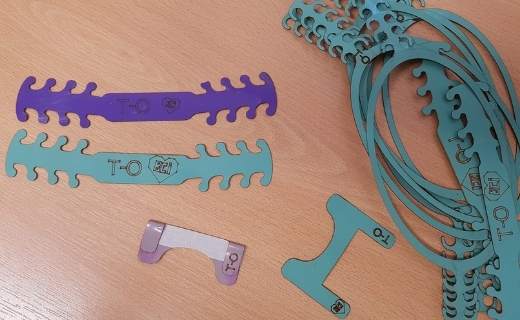 Wednesday, 27 Oct 2021
Necessity is the mother of invention and Toi Ohomai Institute of Technology tutors have collaborated to create custom nose clips to stop glasses from fogging up while wearing a mask. 
Electrical Engineering tutor Karl Harrison and arts department technician Karolina Bemova teamed up to create laser-cut plastic nose clips.
The nose clips have not only been distributed to staff in need but also handed out to the team at Waipuna Hospice with hundreds already dished out.
Karl was instrumental in the process, first creating 3D printed nose clips.   
"When I heard the new mask rules I decided If I have to wear a mask "I will wear a mask" so started looking at 3D files of crazy masks.
"From there I saw a bunch of other mask related products that the global 3D printing community were creating, of course in lockdown I didn't have access to the 3D printers so I just started researching what solutions people had come up with." 
Karl found some files for 3D printing and once he was back on campus he made some and got his wife and workmates to trial them, making improvements as he went.  
He pitched the idea of supplying them free to staff as a COVID response initiative and was given approval to produce a limited run. 
"I also printed some mask spacers which are supposed to help people who find it hard to breathe in a mask and ear savers that hold the mask straps off your ears to prevent sore ears and the Dumbo ear look."
Karl had been discussing his ideas with colleague Karolina when she decided to replicate the shape of the nose clips in laser cut plastic. 
"And the new model nose clip were born, even these have gone through several variations to get to the current model with the Toi Ohomai logo branding on them and a special non-slip coating to keep them on the mask. The laser-cut model is also moldable by dipping it in hot water to get a perfect fit."
Karl was proud of the product when one of his friends, who works at Waipuna Hospice, tried a nose clip and "thought it was amazing".
"They asked for a set for all the glasses-wearing staff there." 
He's also had requests from people across Aotearoa and Australia. 
But the innovation hasn't stopped there. Karl is currently working on creating a mask that has a small battery-operated fan in a 3D printed housing to force air through the mask, making it easier for people with conditions like asthma to breathe. 
"The fan speed is controllable to get the right amount of air for different activities. This one is still a work in progress."