Sustainability Initiative Introduced at Campus Salon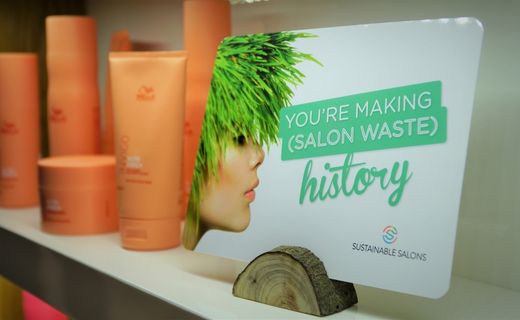 Monday, 08 Aug 2022
Time to Shine hair salon at Windermere has implemented a salon recycling programme to support sustainability. The Toi Ohomai hairdressing team has partnered with Sustainable Salons to implement a resource recovery programme at the salon. It means they're now recycling hair, chemicals such as hair colour, metals including hairspray cans and tin foil, razor blades, plastics and more.
Sustainable Salons is an Australasian social enterprise that has established a network of collectors, recyclers, manufacturers and distributors to help its members divert 95% of their salon materials from landfill. A tutor-led initiative, Time to Shine at Windermere joins more than 1,000 other salons across Australia and Aotearoa that are participating in the programme.
Plastics are collected, cleaned and upcycled into new products. Salon metals and paper are sold for recycling, with the proceeds donated to KiwiHarvest - a charity that provides meals to New Zealanders in need. Ponytails are collected and made into wigs for people suffering from cancer or alopecia, and salon chemicals are pooled and sent to chemical recycling plants to be neutralised and turned into recycled water.
Windermere Hairdressing Tutor, Lynette Smith, says her class has gotten right behind the Sustainable Salons programme.
"They're a generation of eco-warriors. Ākonga are recycling as much as they can, and recording our waste minimisation efforts on the online dashboard on the Sustainable Salons website. It's pretty cool for them to learn what happens to our salon waste, and we can track our positive impact on the environment over time."
"More and more consumers are wanting businesses to demonstrate how they're doing their part to care for the environment. In-salon recycling programmes like this will likely become the industry norm going forward. By taking part, it also means we're helping to provide relevant and real world training for students as they prepare to embark on their careers out in the industry," says Lynette.
Time to Shine at Windermere is piloting the programme and there are plans to roll out Sustainable Salons at all campuses in the future.
For more information, visit the Sustainable Salons website.
Related content:
Hair and beauty news articles