Toi Ohomai Patisserie Guru to Teach in Egypt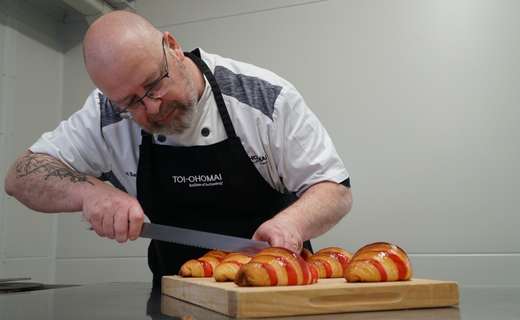 Friday, 23 Sep 2022
With a passion and flair for patisserie like no other, Noel Remacle is a baking guru. The Toi Ohomai tutor gained an international audience when he started posting baking videos online during the Covid-19 lockdown, establishing a new partnership with an Egyptian university. 
With New Zealand and international borders now open, when this semester of his Level 5 Bakery course finishes Noel is heading to Pharos University in Alexandria to spend time teaching them the intricacies of patisserie in person.
"I will be teaching a full week, all desserts and patisserie items. I will teach entremets, classics like Opera cakes and Paris Brest. I'll get them to perfect Macarons and also run a shop on campus as I do with my class here."
Noel started at Toi Ohomai in 2016 but has an extensive baking background, being a third-generation baker from Belgium. 
He worked in his family business for 10 years before selling up and moving to New Zealand in 2007. 
His first job in New Zealand was a minimum wage night shift role, but he quickly moved up the ranks and after several jobs, he moved on to managing a supermarket bakery. After entering a company competition, he was approached to teach patisserie and chocolate skills to managers all over the country. 
Noel was also instrumental in securing the global franchise contract for Guylian Belgian chocolate at Florentines Patisserie in Mount Maunganui. 
"That was all patisserie, I had to redevelop the total production of their products to serve cafes in Australia, the Middle East, Korea and China. I did product development and production leading. That was a very important part of my career where I realized that patisserie was growing big time, worldwide."  
But when a teaching job came up at Toi Ohomai, Noel knew it was the path he wanted to go down. 
"And the rest is history." 
Noel stays on top of current trends and can clearly see the direction of the industry.  
"I am on Instagram and other social media platforms following what is out there and thinking about how I can use it but combine it, change it and put my stamp on it.
Also, I have a lot of relationships with pastry chefs and bakers abroad whom I talk about products and techniques with on regular basis.
"At the moment, the most insta-worthy topics, desserts are the number one food that Gen Z-ers choose to photograph, and we can definitely understand why."
Noel says the future of the hospitality industry, depends on how we train our students, and stay up to date. He emphasises the importance of not being afraid to follow trends and being open to new influences.
"I tell my students the truth about our industry, whether it is being a restaurant chef, or a baker/pâtissier, it is hard work and long days.
"You need to be resilient, ready to make a lot of sacrifices and be passionate. If you want a career, it will have to be your lifestyle for the first years, see it as an investment, and if students are ready to do that, they will be rewarded for it."
The skills taught are all transferable, Noel says, and are skills that can be used in every part of life and other industries. 
"To know patisserie, you need to start as a baker. The saying goes, every pastry chef is a baker, not every baker is a pastry chef."
Related content:
Hospitality news articles