Abbey Jordan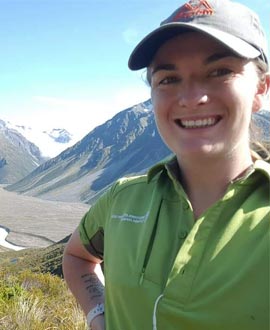 A love of the outdoors and a passion for conservation has led Abbey Jordan to her dream career. 
Abbey is a park ranger at McLaren Falls Park and says studying the New Zealand Certificate in Conservation has been invaluable to her success. 
"I have always had a love for conservation. My step-dad, Hooky, was in the goat team for Department of Conservation in the Thames office. He would come home and tell me all the stuff he had done that day, I loved the stories. I was training to join the Navy when I realized it wasn't the right path for me."
When she decided to study conservation, Toi Ohomai Institute of Technology was the obvious choice for the former Mount Maunganui College student. 
"It is the only place in the North Island that provides this course. I also had great support. My tutor Ron was amazing and very supportive with course related studies but also personal things, with our course you had to make sure you were 100 per cent there, mentally, because of the amount of physical theory we had, and Ron was always so understandable with that." 
Abbey says the skills she learnt while studying at Toi Ohomai, she now uses on a daily basis. 
"I am still learning more things like chain sawing, we got our ticket through course, but now as I use it weekly, I have gained so much more confidence because I now use it all the time."
Abbey is part of a team of four park rangers at McLaren Falls Park, herself and one other ranger undertake most of the park maintenance. 
"If I am not on machinery I will be doing project planning. I love being on the machines as it teaches me to have more confidence in myself. I am the only women and I am very stubborn and I make sure the guys know I can do anything. I don't like asking for help if I know I can do it.
"The planning side is also really fun because it lets me have a say about how the park is going to be now and in the future. I've been there for almost one year but I love all the challenges I've been given."
Highlighting just how important conservation is to our country's ecosystem has been eye opening for Abbey. 
"I have learnt just how important our native flora and fauna is and how we really need to protect it. If we don't have our native birds, we won't have our native bush, our birds eat the seeds and transplant our trees, it's a massive thing and we need to actually look after our beautiful species."
Everyone has a role to play when it comes to conservation and Abbey says there's simple steps everyone can take. 
 "I think conservation should be a more talked about subject, a lot of people don't know what they can do to help, but learning basic things, like setting up at-home rat traps is really helpful."
 
Find out more about this subject