Holly Gardner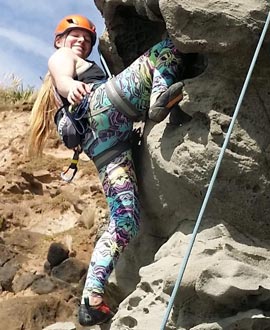 Climbing to the Top and Making a Difference
Holly Gardner's climbing skills are paying off, earning her two Toi Ohomai Institute of Technology scholarships to use during her sports diploma studies.
Having completed her final year at Rotorua Lakes High School, the Government's fees free policy covered Holly's first year tertiary fees, leaving her to pocket her $5000 High Performance Sports Academy (HPSA) scholarship. She was also one of 34 Secondary School Achiever Award winners, receiving a further $2500.
Holly's sporting and volunteering efforts helped secure the scholarships when she applied for her New Zealand Diploma in Sport, Recreation and Exercise (Level 5) course.
She first started climbing when she was 10 years old and later represented New Zealand at the 2017 Oceania Sport Climbing Championships. She came fourth at the National Lead and Para-Climbing Championships this year and is keen to now focus on outdoor climbing.
"I love the community and trust that climbing has. You get to push yourself mentally and physically while making lifelong friends along the way. Climbing at a national and international level, your mental game is so important. I like training my thoughts - that I can do it, and feeling fear but controlling it." 
Holly has saved some of her scholarship funds and spent some - buying an essential laptop and using the money to cover the entry fees, petrol, accommodation and licence fees associated with her climbing events. She intends to use the remaining funds for further study next year, but has yet to decide which course. 
The hard-working 19-year-old is also paying her own way, working part-time as a retail assistant at an outdoor adventure gear company. 
Holly trains with the Rotorua Climbing Club and has benefitted from the Toi Ohomai Recreation Centre membership that's part of her HPSA scholarship. 
"Having a gym so close to where I study and live, for free, has been amazing. The High Performance Sports Academy tracksuit also makes me feel part of the team." 
She's thoroughly enjoying her diploma course, which has helped develop some of the skills she's  gained while volunteering for community organisations like civil defence.
"I knew I was interested in sport, health, people - and that I wanted to make a difference in people's lives. My own nutritional and exercise habits have improved from this course. I want to help others by teaching them what I have learnt and how they can improve their life. 
"I'm unsure of what career or job I will choose, at the moment there are so many awesome options open to me from doing this course. I hope to travel the world and use this qualification every day of my life."
 
Find out more about this subject