Katarina Gutteridge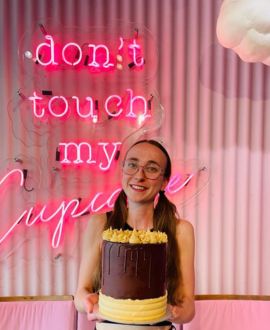 Katarina Gutteridge is making waves in London's vibrant bakery scene after graduating from Toi Ohomai. 
From studying Toi Ohomai bakery courses to working in one of London's award-winning bakeries, her journey is nothing short of inspiring. 
Katarina says her fascination and passion for baking began when she was growing up and she honed her skills while working in the hospitality industry during high school.
Her affinity for the science and art of baking led her to pursue a career in the field, prompting her to study Bakery at Toi Ohomai.
She began at Toi Ohomai in 2018, where she completed the Level 4 Certificate in Baking. Building upon her foundational knowledge, Katarina then undertook the level 5 Diploma in Baking in 2019. The progression from level 4 to level 5 allowed her to develop more advanced skills and explore her creativity in designing and developing unique bakery products.
"I've always had a passion for baking, and Toi Ohomai offered the perfect hands-on, practical-based courses taught by experienced tutors with real-life expertise in the baking industry," Katarina says.
Throughout her time at Toi Ohomai, Katarina says she received unwavering support from her tutors and staff. Even after completing her courses, the supportive network extended to job offers from various bakeries across New Zealand.
In pursuit of her dreams and to broaden her horizons, Katarina boldly moved to London at the beginning of 2023. Since February 2023, she has been an integral part of Flavourtown Bakery, where her creativity and passion for baking shine every day.
She says a typical workday involves starting her morning by baking a variety of cupcakes and cookies. She also prepares cake batters, frostings, and other delicious treats for the bakery's eager customers. Weekends are especially exciting as she and the team create exclusive, limited-time cupcakes that are inspired by special holidays and events throughout the year.
"We make a range of new frostings, decorations and fillings for these which means we are forever learning new techniques and using new and interesting ingredients to create the masterpieces that are our weekend special cupcakes."
Staying abreast of the latest bakery trends is essential in such a dynamic industry, and Katarina has mastered the art of keeping up with what's popular. Social media, particularly Instagram, plays a significant role in helping her stay connected to baking trends. It also allows her to engage with customers, gather feedback, and incorporate their preferences into the bakery's offerings.
Katarina says she loves the creativity and variety she gets from baking. 
"My favourite thing to bake is definitely cupcakes, there are endless amounts of different flavour combinations and decorative elements." 
The ambitious baker says she hopes to continue to build on her skills and one day manage her own bakery. 
"I would love to inspire and teach other passionate bakers new and exciting techniques." 
As Katarina continues to leave a mark on London's bakery scene, her story serves as an inspiration to aspiring bakers and showcases the incredible potential that comes with following your dreams and mastering the art of baking.
"I would definitely encourage aspiring bakers to go for it, don't hesitate. Studying baking has allowed me to turn my passion into a full-time job, where I am lucky enough to work in an award-winning bakery in London. It is a career path that is so diverse and one where you will never stop learning and gaining new skills from like-minded people in the industry." 
 
Find out more about this subject