ENVR5007 Waste Management (Level 5) (15 credits)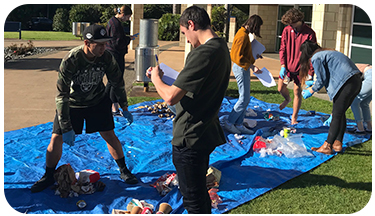 The aim of this paper is to provide students with the knowledge of waste minimisation principles and the impact of waste on the environment.
Waste is becoming one of the biggest environmental issues of the 21st century. There is a strong need for government and individual change to remedy the situation. 
This paper takes a holistic approach to exploring how waste is created and subsequently managed. 
You'll learn different ways to improve and contribute to the system and be equipped with the tools to create change. This paper is focused on applied side waste management and features industry speakers, field trips and labs. 
Content includes:
Global and historical perspectives of waste
Current New Zealand waste management situation
Zero waste principles
Sustainable practices
Wastewater treatment
Environmental impacts
Waste legislation
Practical components:
Water sampling and laboratory analysis
Waste audit
Field trips to a wastewater treatment plant, drinking water treatment plant, landfill, transfer station, recycling facility and sustainable businesses
View level 5 marine strand course details or level 5 terrestrial strand course details