Teaching Skill and Passion for Hospitality Industry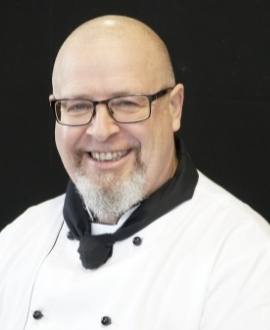 Wednesday, 12 May 2021
By Toi Ohomai Expert: Noel Remacle, Culinary Arts Tutor
New Zealand's hospitality industry is one that is rebuilding after COVID-19 and is crying out for passionate and innovative staff. 
Toi Ohomai Institute of Technology culinary arts tutor Noel Remacle aims to help fill that gap by teaching with passion and giving students realistic, hands-on training. 
Noel teaches the Level 5 Bakery class and emphasises to his students the passion and hard work needed to succeed in the hospitality industry. 
"It needs passion and hopefully, we can bring a bit of our passion over to our students. We are a team of all very passionate people, and our goal is to get as many people ready for the industry as we can. The industry needs them." 
Despite baking being a hands-on job, Noel embraced online learning during New Zealand's COVID-19
Level 4 lockdown in 2020 and it spurred him to post videos on YouTube of a bread-making tutorial. 
He is hugely passionate about patisserie and often posts pictures of his work in patisserie pages and groups on Facebook. This prompted a tutor from Pharos University in Alexandria, Egypt, to reach out to Noel to see if he would be interested in doing an online workshop for her students.
"At first I thought it was a joke or some spam, but it turned out to be real."
Noel hosted the online workshop at the end of April and says it was an amazing experience. He taught the students a dessert called Passion Temptation - a dome of white chocolate mousse, inside of which is a caramelized passionfruit crémeux on a dark chocolate joconde sponge base, covered in a white mirror glaze. 
"The idea was in my head for a while now, and this was the perfect opportunity to give it a shot. It's no different from teaching in class, only there is no direct contact. 
"The students and their tutor who followed the lesson could ask me direct questions and it was very interactive." 
The online workshop was a prime example of technology-enabled learning, something which Noel agrees needs to be embraced. 
"We live in the 21st century, we need to embrace modern technology, everything becomes electronic, even books. 
"Why not be innovative and also try things like hospitality online. COVID showed us that working from a distance is possible. 
"I get all the pictures of the students recreating the dessert with the supervision of their tutor." 
Noel started at Toi Ohomai in 2016 but has an extensive baking background, being a third-generation baker from Belgium. 
He worked in his family business for 10 years being selling up and moving to New Zealand in 2007. 
His first job in New Zealand was a minimum wage night shift role, but he quickly moved up the ranks and after several job moves he moved on to managing a supermarket bakery. After entering a company competition, he was approached to teach patisserie and chocolate skills to the managers all over the country. 
"I said yes and really enjoyed the teaching, that's when I realized, it was actually what I wanted to do. Then the job at Toi Ohomai came up and the rest is history." 
Noel says one of the biggest challenges facing the hospitality industry is staffing and commitment.
"A challenge is finding people who are willing to do the crazy hours.
He says anyone can learn how to bake at home, but students need to gain skills in production before going into the industry. 
"Making six cupcakes and five éclairs at a time as a hobby is something they can learn at home with a book of Mary Berry.  
"That is why we run our bakery shops, so we can train them on production as good as we can in a learning environment." 
Read more from our experts on LinkedIn.