Celebrating Success at Graduation 2021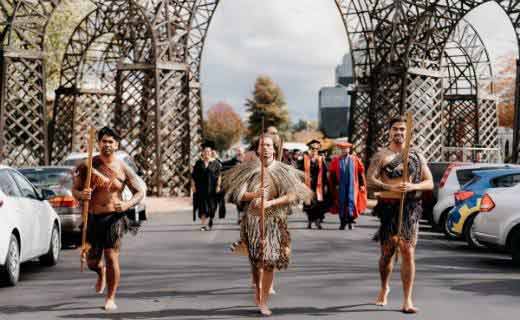 Tuesday, 20 Apr 2021
Toi Ohomai Institute of Technology has celebrated its biggest graduation week. 
The Institute hosted 12 ceremonies in eight days and six locations across the Bay of Plenty, celebrating more than 5000 graduates. 
Among the thousands of graduates, were students from 2019 who were unable to walk across the stage to graduate in 2020 because of COVID-19.
Toi Ohomai Head of Marketing, Events and Communications Jessica Barnett says it was great to celebrate those graduates who missed out on their ceremonies last year.
"These graduates are now working, with many living away from the Bay of Plenty, but they came back to celebrate their achievements with the whānau, friends, peers and tutors. 
2020 was also a tough year for students to complete their studies, but those students made it through and were able to graduate. 
"We are incredibly proud of those students that were affected by the lockdown who have graduated, even with the challenges that they faced throughout the pandemic. Many of them had to change from in-person classes to online learning environments within a very short period of time. Some were separated from their whānau during this time – making it even more challenging.
"We couldn't be more proud of everyone's achievements." 
In addition to the graduation ceremonies, students were invited to take part in the graduation parade in Rotorua. This was held on Tuesday and students walked from the Rotorua Lakefront along Tutanekai Street, Arawa Street and Queen's Drive, finishing at the Rotorua Energy Events Centre. 
Graduation ceremonies were held in Whakatāne, Taupō, Tokoroa, Tangatarua Marae, Rotorua Energy Events Centre and Tauranga Trustpower Arena. 
Professional photos taken at the events are now available for download on Swift & Click's website, plus videos from all the ceremonies can be viewed on YouTube. 
Related content:
Graduation news articles