Channelling Creativity into Music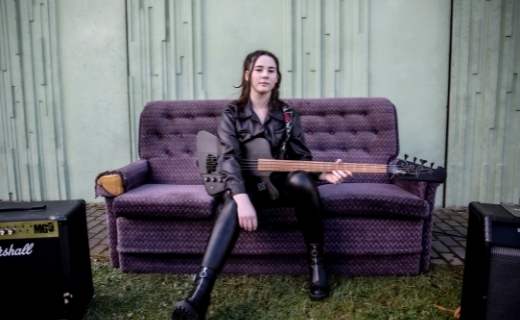 Thursday, 19 May 2022
Amelia Sherman uses songwriting as a creative outlet. 
She studied both a Certificate and Diploma in Music at Toi Ohomai Institute of Technology and says songwriting is about sharing stories and experiences. 
Her love of music started at a young age. 
"My dad was in two bands when he was younger, over in England, and always loved showing me songs he grew up with.
"I did lots of music-related things growing up. But my dad was a huge help in getting me into music, like getting me into piano lessons, and convincing me to start guitar."
Amelia describes her time at Toi Ohomai as amazing.
"My first year I was terrified as I knew nobody, but I quickly become friends with everyone in my small class."
She says the tutors were "amazing", supporting her not only academically but also when she was struggling in her personal life. 
"I went through a really rough patch last year and the tutors were really understanding of that, I was busy with the pageant and a lot of personal issues and my class and tutors were super helpful through the whole thing."
During her study, Amelia was a contestant in the popular Miss Rotorua pageant, which was turned into a television series, Gowns and Geysers. 
My experience with Miss Rotorua was definitely interesting. 
As part of the pageant, Amelia was set to perform an original song. 
"Unfortunately, my song had to be rewritten in under three hours as it was deemed "Satanic". It really wasn't, people just don't understand metaphors. I rewrote it as the literal version of the song, and it still did very well."
Amelia says the experience gave her an insight into the industry and an understanding that not everyone will like what you have to say, either in song form or speech.
May is New Zealand Music Month and Amelia says the campaign is a great way to showcase New Zealand artists to the world.
"It's a positive place for people to share small artists that they like, and for those small artists no matter where they are in their career to share their stories."
Although she is not currently working as a musician, Amelia writes music in her spare time and hopes to move back to England to work with like-minded musicians and teach singing.  
She encourages aspiring musicians to study and enjoy their craft. 
"If this is something you're passionate about, and really what to achieve, then studying music shouldn't feel like studying. It should feel like you're just with friends playing music and bouncing ideas off each other."
 
Related content:
Arts news articles