Collaboration Creates Matariki Dinner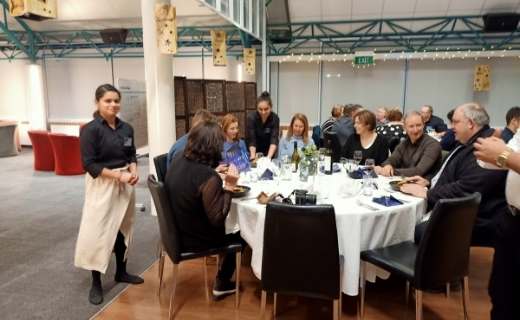 Tuesday, 29 Jun 2021
Collaboration was on the menu when Toi Ohomai hospitality management and culinary arts students teamed up to put on a Matariki themed dinner. 
Students were tasked with planning and delivering a real-life event and Tourism and Hospitality tutor Kylee New says key learnings come from working together and executing a large function. 
"The main focus was delivering an event that met the desired assessment outcomes for both the New Zealand Diploma in Hospitality Management (Level 6) students and the Culinary Arts (Level 5) students," she says. 
The students planned the event through a series of meetings. They worked on theming, design a run sheet, obtaining feedback and executing the event.  
Marco Fuchser's culinary arts class designed the menu reflecting elements relating to the theme, Matariki. 
"The main idea was to turn a simple dinner evening into an experience for the customers with some interactive elements. The students were required to make team decisions on all menu items. Menu items were connected to the nine different stars of Matariki and their meanings. The menu had to incorporate indigenous flavours with a contemporary twist. All recipes for this event had to be researched and some even custom designed and tested out by the students."
The dinner was attended by tourism and hospitality tutors from regional high school which Kylee says enabled Toi Ohomai to showcase the students' skills and abilities as well as maintain meaningful connections to the schools. 
"The Matariki theme came about because it coincided with the end of the semester but also, it allowed a large proportion of our international students to celebrate an indigenous cultural event."
The event was held at the Atrium on the Toi Ohomai Windermere Campus, which was decorated with nine lanterns representing the nine stars of Matariki and fairy lights bordering the room. 
Centrepieces were made from scratch by tourism tutor Betty Ormsby who is learning flax weaving, adding a wow factor to each table. 
"Feedback was extremely positive, the majority of teachers requesting further events, workshops or class visits in the future to further enhance our relationship," Kylee says. 
Related content:
Hospitality news articles