Event Raises Money for Education in Cambodia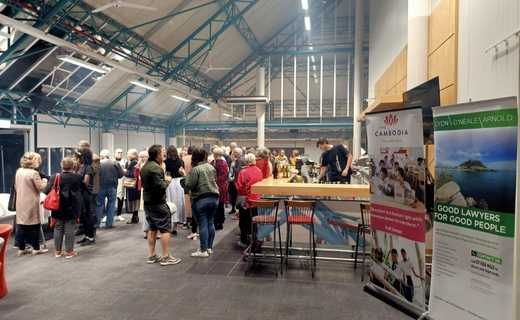 Tuesday, 30 Aug 2022
Toi Ohomai played host to supporters and friends of the Tauranga-based Cambodia Charitable Trust in a bid to raise money for education programmes in Cambodia.
The Cambodia Charitable Trust held a photographic exhibition and dinner at the Toi Ohomai Windermere Campus' Atrium Restaurant. 
The exhibition featured photos taken by award-winning photographer Stacey Simpkin, it tells the Cambodia Charitable Trust story through images of children, schools, and teachers, plus volunteers working in Cambodia.
The images were previously displayed in the National Portrait Gallery in Wellington, to positive reviews. 
The Trust's top priority is developing and providing free, quality education to vulnerable children in Cambodia, especially girls. 
  
The Trust feels passionately about transforming lives and giving children choices - through education.
Guests were able to learn about how the Trust uses education to break the poverty cycle in Cambodia and help young children escape human trafficking.
The exhibition was followed by a festive supper, served street food-style, prepared by the institute's Culinary Arts students. 
Hospitality students were also given the opportunity to host the event, which was connected to a course assignment. 
About 65 guests attended the event and an amazing range of food items was served. 
The event not only showcased the Cambodia Charitable Trust, but also the skill of the Culinary Arts and Hospitality students, who seamlessly worked together to ensure the event was a success. 
Related content:
Hospitality news articles