Forestry Students Success at National Conference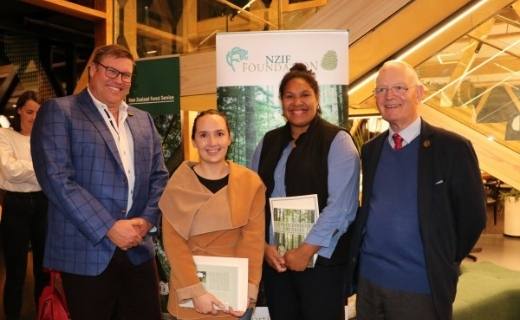 Thursday, 26 Aug 2021
Five Toi Ohomai Institute of Technology students walked away winners at this year's New Zealand Institute of Forestry (NZIF) Conference. 
Toi Ohomai forestry tutor Mark Cleland took nine students to the annual conference which was held in Masterton recently.
Out of those nine students, two were awarded the NZIF Foundation Mary Sutherland Scholarships, each worth $1,000, while three took out first, second and third place in a NZIF Foundation Research Poster Competition.
Mary Sutherland was the first woman in the world to graduate with a forestry degree and the scholarship is awarded to women studying the profession. This year's recipients were Pamela Purdie and Lily Marshall, who are both in their first year of the New Zealand Diploma in Forest Management at Toi Ohomai.
The poster competition is open to forestry students and is judged by attendees at the NZIF Conference, who cast votes. The competition had entries from University of Canterbury students and postgraduate forestry students, as well as Toi Ohomai. 
Mark says students in their second year of the New Zealand Diploma in Forest Management work on a research project of their choice in the first semester of the year. 
"This year we chose four of the best projects to present as posters at the conference. 
"The competition is highly competitive and our students were stoked to win. We are very proud of them."
The winning student was Dallas Collier for his project 'Money lost through production breakage during harvesting'. Kajal Chaudhary came in second with 'Comparison and valuation of Pigeon Valley standard regime vs the fire affected regime'. Michael Walmsley was awarded third place for his project 'Hovermap consistency analysis'. 
Toi Ohomai has a long history of attending the conference, which Mark says is hugely beneficial to students. 
"They get a good perspective of what the industry is like. It is also an opportunity for them to network, which can often lead to job opportunities and offers." 
Mark says the forest management course has good enrolment numbers, with a diverse range of students signing up.
"More than 50 per cent of our students are female and the average age is around 25," he says.
"We get some school leavers, but we also see people who are already in the industry wanting to take that step up. We're also seeing people from other industries choosing to retrain in forestry, especially some who may have lost previous jobs due to COVID." 
Job prospects in forestry are positive and Mark says the industry is booming. 
"Our graduates leave with strong forestry knowledge and good software skills which prepares them for a range of roles in the forestry management sector, including as supervisors and planners."
Pictured: Mary Sutherland Scholarship winners Pamela Purdie and Lily Marshall with NZIF President James Treadwell and NZIF Foundation Chairman Andrew McEwen. Photo supplied by NZIF. 
Related content:
Forestry and wood production news articles