Generation Programme Success in Tokoroa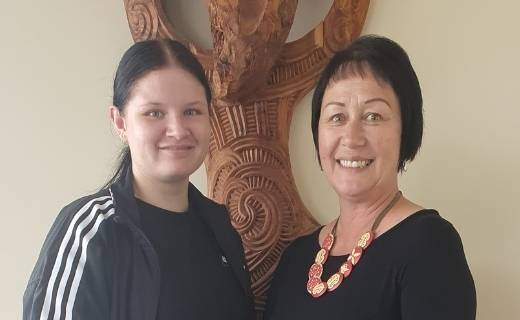 Thursday, 25 Nov 2021
Olive Williams is well on her way to a career in forestry thanks to the Generation Programme. 
The Generation Programme is a partnership between the Central North Island Wood Council, Te Uru Rākau (New Zealand Forest Service), Forest Growers Levy Trust, the South Waikato District Council, South Waikato Investment Fund Trust (SWIFT) and Toi Ohomai Institute of Technology.
The course offers participants work experience in silviculture, harvesting and mechanisation, processing, manufacturing, technology, office management, health and safety, roading, dispatch, and transport.
Site visits, training simulators, fitness and nutrition, first aid, transportation and licensing, drug and alcohol education, and NZQA qualifications are all built-in. Once completed participants go into paid employment with options for further study.
The first cohort has just graduated from the Tokoroa-based course, and Olive and her classmates are moving on to the next step in their forestry journey. 
"When I first found out about the course I was really interested in the variety of jobs the forest industry had," Olive says. 
"It was also a free course that covered drivers' licenses, first aid certificates, a gym membership and nutrition but also promising us students a job at the end of the course." 
The course was 12 weeks long, but due to lockdown was extended by a couple of weeks. 
"I enjoyed learning and being able to operate a chainsaw as it was my first time ever using one. This sparked an interest I never knew I had." 
Seventeen-year-old Olive was the only female on the course and says she loved being part of the team, 
"I was treated with respect. I loved being able to do everything the boys were doing without judgment and that was an awesome feeling." 
Olive has now accepted a job with Fast Harvesting that starts in January but is currently working at a local depot with some of the other graduates. 
She highly recommends the course, especially for women who may not know what career path they want to take. 
"Even if you feel like you don't know what career you want or what you want to do in the future, this course is an awesome opportunity to get out there and try something new." 
Central North Island Wood Council chief executive Damita Mita said the programme would be of significant benefit to the industry. 
 
Related content:
Forestry and wood production news articles